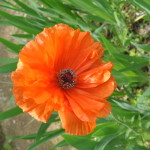 "The Chinese people are friendly people, people with sympathy, people who will always help others in time of need,"  China Foreign Ministry spokesman Qin Gang said this month in response to questions about its lack of financial aid to the Philippines in the wake of the dastardly typhoon that took more than 5,000 lives. 
The Chinese may be friendly but in the past couple of years you'd feel a lot better if they were a little less friendly and a little more peaceful.
China is involved in a longstanding dispute with the Philippines over some islands in the South China Sea. It's not only the Philippines. It pretty much claims almost the entire oil- and gas-rich South China Sea, overlapping with claims from other countries located there as Taiwan, Malaysia, Brunei, and Vietnam.
The Chinese refuse to go to arbitration over its claims and says it will never back down; and, it is slowly building its navy to be able to enforce its claims.
If that isn't a bit worrisome last week the Chinese declared a new Air Defense Identification Zone in the East China Sea which overlaps the Japanese Air Defense Identification Zone. Like with the  Philippines, China has a dispute with Japan over some tiny islands.  The Chinese have announced that no one can fly in their zone without prior notification to China. Shortly after that zone was established, the U.S. flew two B-52 Bombers (they first were used in 1952) through the new Chinese zone although the Chinese said they skirted the zone. The Japanese and South Koreans did the same. The Chinese responded by sending some of their fighter jets into the zone but after the others had left. While China asserts it will not back down, Japan asserts the same thing, and Australia has jumped into the spat.
With the Japan/China dispute we have two major Asian nations which seem to be playing "I dare you to knock the chip off my shoulder" or in more laconic terms "chicken." Those games are all right to play as kids but they should be avoided by nations. The consequences of this can be dire. It has been called the most worrying strategic escalation between the U.S. and China since 1996.  But back then China had not achieved the military strength it now enjoys.
What seems clear is that China's declaration of this new zone caught America by surprise. The question that has to be answered is why did it take this provocative step at this time. If that can be ascertained, then an analysis can be done of whether it is a symbolic way to assert its claim on the islands or whether it is more than that, namely a declaration that it is asserting military control over this new zone.
If China intends to enforce the zone through the use of military, for instance if it forces an American or Japanese plane to land in China or shoots down such a plane, have we decided upon our response.  If we let one such incident go by, do we encourage China further or will it be pacified that it enforced its decree and back down from further hostile actions?
Is China moving forward with its claims now because it perceives an increase in Japanese militarism and recognizes if it doesn't act now when it have an overwhelming military superiority it may never get the chance again? If that is its thinking then it has to figure the U.S. will not want to jump into the fight.
I can't get over the nagging feeling that China has taken the measure of Obama and figures he has no stomach to intervene to help Japan. Back in the late 1930s Hitler made the same evaluation of Britain and seized Austria and then Czechoslovakia. Perhaps the Chinese also feel the American people having been at war for over ten years have exhausted their patience with it and won't be up to getting involved in a Japanese/Chinese dispute. I think we are seeing the results of wasting our wealth in the Middle East fighting wars with nations that cannot threaten us.
China has seen Obama foolishly threaten the Syrian leadership and then backing down; seen him enter into an agreement with Iran in order to avoid having to go down the war road; and watches as the U.S. seems to be begging Hamid Karzai to let us spend our money to protect him.
As we ponder our Black Friday deals, we should be considering the perilous days that are in the offing. We have put ourselves on the defensive by our lack of resolve. To avoid a great tragedy Obama must make it crystal clear to China that any war-like act will result in an American response.  Vice President Biden is visiting China next week. He must carry with him specific things we will do in response to any aggressive action by China against Japan.  Unfortunately, as a debtor nation to China we may be dealing with a weaker hand than we would like.
Let us hope this is not the start of something new.