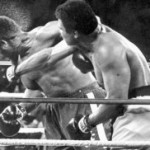 I'm told Kevin Weeks is on the stand Monday. He wrote a book entitled Brutal. He travels around the suburbs pushing the book for sale. It's very exciting for these suburban housewives to be in the room with a real murderer. Some even come up and dare to stand near him. It gives those who do stories that they can pass down through her children and grandchildren how daring it was to come within an eyelash of a true murderer.
I saw Kevin Weeks testify in the John Connolly federal trial in Boston. He passed briefly over his life with Whitey. The main focus of his testimony was telling how Connolly tipped Whitey off to flee when the indictments came down. Like the two Southie gangsters we heard testify earlier this week, he called Whitey Jim or Jimmy.
Which reminds me, Martorano called him Whitey when he testified, a name he never called him to his face. I attributed that to the prosecution having well rehearsed him on what to say. The guys from Southie who testified, the real tough guys who survived without shooting someone in the back of the head, who couldn't be hammered into submission by the government, kept their toughness and refused to call Whitey other than Jim.
I watched and listened to Weeks testify. I believed him to be one of the best witnesses I ever saw. Not so much on direct, because then he was answering mostly yes or no for AUSA Durham, pretty much as he will be doing for Fred Wyshak. But on cross-examination.
I once visited a zoo in Spain. It had a huge tiger in one cage. About 100 feet away from the cage they had a donkey ride set up. The donkey would walk in circles. The tiger would never take its eyes off the donkey. It stared and stared at every movement. I was fascinated watching how intently it concentrated.
I bring that up because if you read in my book Don't Embarrass The Family where I discuss Weeks's testimony I tell how he never took his eyes off Tracy Miner as she cross-examined him. He followed her every move with his eyes as if he wanted to pounce upon and devour her. It made me recall the Spanish tiger.
Miner's a good lawyer but Weeks gave her a run for her money. He always answered the way he wanted; he could never be pinned down. He showed a keen mind and a high intellect weighing carefully each question and firing off his answers in a way that defied you to disbelieve him. His keen ability to testify seemed so at odds to the life he led and testified about.
Months or even a year or two later I had a private conversation with a person I won't identify, as you know I will not disclose things said in private. This person has seen more people testify over the past couple of decades than most other people. The person told me that Weeks was the best witness he ever heard testify.
That person didn't like or know Weeks any more than I did. I was surprised we had come to the same conclusion. Unless the passing of eleven years has changed him, starting Monday the public will be treated to that type of witness. A treat to the public, a problem for Carney.
If Weeks is on his game, he'll destroy Whitey unless Carney can destroy him. Weeks is standing next to Whitey in at least five murders, side by side, helping him out with the murder and the burial. One he will testify about, that of Deborah Hussey, will have him telling how Whitey murdered her. This will be something that Whitey will not abide.
Much worse than being an informant is being someone who killed a young woman. We've heard he used the "f-u" words toward Morris when Morris said he was an informant; I'm expecting he'll come out of his seat and go after Weeks unless he uses his great disciplinary powers to keep himself under control. But a roaring turbulent wild-fire like that which took the lives of those 19 brave firefighters this week will be raging inside him. He might not be able to control it. It will be a continuance of the 4th of July fireworks.
Weeks comes on at the perfect time for the prosecutors. They've just presented two Southie guys who clearly showed Whitey was the man in charge in Southie. Now Weeks will tell how it was that he was in that position. We've heard from Billy Shea the names Halloran and Bucky Barrett, Weeks will tell how they met their demise He will tell how he buried Bucky and others and how he led the cops to them.
Carney will face an immense challenge. Carney has had enough tough cases to be an experienced cross-examiner. Weeks will be the toughest opponent he ever faces. I watched him cross-examine Jimmy Katz, he was all right; cross-examine Joe Tower, didn't think much of that at all. But neither of those men were make or break type guys since Carney had already conceded the gaming and drugs charges.
This time it is different. Not only will Weeks be able to bring down Whitey, he may bring down Carney if Carney doesn't bring down him. This will be a mammoth struggle of titans. No David/Goliath battle here. It is evenly matched. Mohammed Ali vs George Frazier; Dempsey vs Firpo, Joe Louis vs Billy Conn, Hagler vs  Hearns, Mickey Ward vs Arturo Gatti, all combined into one. Hopefully Carney paid attention during training camp.
I know Weeks will be on his game; I hope Carney is ready for the slugfest. Those on the inside know this is the battle of the case. I half expect Judge Denise Casper to step aside for a moment Monday morning and to see Michael Buffer come in through the door behind her to say "Lets Get Ready To Rumble!"