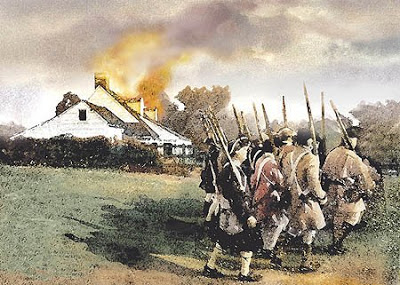 Two black men shot dead by white police officers in recent days in Louisiana and Minnesota were carrying guns.  As best one can tell at this time they did not use them to threaten the police officer but the officer's awareness of their presence heightened his fears and caused a tragic loss of life. The men were carrying the guns because they felt they needed them to protect themselves. That is what we have been told we should do by the National Rifle Association and its supporters – we must carry guns to protect ourselves from others with guns. In these two situations the gun caused the tragedy rather than preventing it.
Five white police officers carrying guns were shot dead by a black man carrying a gun which happened to be an assault rifle. Their guns did not protect them against this person intent on murdering them. One police officer I saw heroically tried to stop the shooting. He shot at the murderer but the shots had no effect. The murderer was wearing bullet proof material. Why is it that private citizens can buy and wear body armor?
Forty-nine people died at a gay night club. One man with a gun or guns including an assault rifle murdered them for reasons still not clear although he professed to be acting as a Muslim jihadist fighter. He like all the others who have killed or been killed was legally carrying the gun and prior to the murders was not an outlaw.
These guns abound in America because our Supreme Court has decided that a law passed prior to the time America had a standing army, prior to the time of the invention of the repeating rifle, the revolver, and over 100 years before the invention of the machine gun (Gatling gun),  over 150 years before the invention of the assault weapon, gives Americans the right to carry these things that could not be imagined at that time.
The Second Amendment is a simple statement. It reads: "A well regulated Militia, being necessary to the security of a free State, the right of the people to keep and bear Arms, shall not be infringed."
Here is a brief history of the law. The Supreme Court in a 5 to 4 decision found that the statement "the right of the people to keep and bear Arms, shall not be infringed" was not limited by the introductory words "A well regulated Militia, being necessary to the security of a free State." In other word the framers of our Bill of Rights were wasting their time in putting in that prefatory clause or preamble since it means nothing. That is pure sophistry.
If you want to read the reasoning it is here. But as I have often pointed out the court decisions can say anything the judge's philosophy directs him or her to write. Man, and judges, are capable of reasoning to any possible conclusion. Even John Martorano who murdered over twenty people reasoned that he is good man.
Reading both the opinion of the court and the dissent both sides get it wrong. Too often the judges have their heads in the clouds and do not get down to the guts of the issue. They are unable to call a rose a rose. They will go on describing the shape of the object and tell how it differs from the begonia or gardenia or double impatiens and then go into a history of each item and on and on.
The Second Amendment was adopted in 1791 at a time when the country did not have a standing army and was threatened by forces both within (Shays Rebellion 1786,  Whiskey Rebellion in 1791) and without (War of 1812). It was necessary that the country be able to call upon its men to pick up their weapons to defend it  Given that necessity, it was important that no law could infringe upon that right.
Aside from that these Founding Fathers were aware of the words in the Declaration of Independence that said we had certain unalienable rights—"life, liberty and the pursuit of Happiness" – we instituted governments to protect them – "That whenever any form of Government becomes destructive of these ends, it is the Right of the People to alter or to abolish it, and to institute new Government."
In the early days of our government we knew not what was in store for us. Were the wrong person to come to power and seek to deprive the people of their inalienable rights by allowing the people to bear arms – which at the time as I mentioned included only single shot rifles – the people would have the ability to fight back.
Now, to suggest there is any way the people can fight back against the government forces that is armed with equipment not dreamed of at the end of the 18th Century – drones, airplanes, tanks, artillery, etc. – is to live in a fantasy land, as much of such a land as the idea that people should have unfettered rights to arm themselves with any type of weapon they see fit.
How absurd Americans are is shown by the result of Obama taking the presidency which was that gun sales surged.  People feared he was coming to take their guns away. The truth is if the government decided to take guns away there is no way of stopping it.
We no longer need militias with our standing armies; we no longer are capable of bringing about the overthrow of our government if it steals our rights; so it follows we no longer as a people have the unfettered right to own guns. Our government is fully capable of protecting us from foreign adversaries and home-grown rebellions.
I am familiar with "when guns are outlawed only outlaws will have guns."  That is absolutely true but we have seen "when guns are legal outlaws have guns and greater access to them." One thing is certain we cannot continue down this road and fail to recognize that 21st Century America with a population of over 320 million has little resemblance to 1790 America with a population of a little less than four million people who walked into battle or transported themselves in horse-drawn wagons and whose communications traveled no faster than a horse could run.
The new presidency of Hillary Clinton, as obnoxious as that thought is, will bring to the Supreme Court a bevy of liberal judges. The one good thing, and probably only one good thing about that, is that it will change our rights under the Second Amendment. It can do it with a simple sentence: "The Second Amendment was written before America had a standing army and before weapons became more capable and deadly under circumstances when the nation was at risk; those conditions no longer existing then it is appropriate for the government to make laws governing the use of arms."