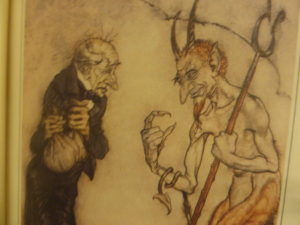 The words in the title those spoken by Scrooge to the Ghost of Christmas Yet To Come in Dickens's A Christmas Carol.
Can things get worse than they are now? I have to suggest yes, much worse. What we are seeing is the tip of the iceberg. Good people who usually acted in a normal manner seem to have become brain washed since Donald Trump has become president-elect. How can it be that so many American zealously cheer his every move?
It is true. They believe that what Trump has said is true. That is so even though they should know that his view of the word  and life is that everything comes down to money and not values. He sees little difference between the countries – and his disciples follow along in lock step. I stare at the parade open-mouthed in amazement. His disciples are not just people who have dropped out before completing high school; they are people who were educated through college and some into graduate schools who believe him knowing his values were not theirs .
I know one is not supposed to compare anything to Hitler. I am not suggesting that Trump is another Hitler. But seeing people around me accepting the Trump's proposition that there is little difference in our country and others such as Russia makes me understand how a guy like Hitler could rise to power.
The Germans in the 1930s were well-educated people. They became enamored of Hitler for the same reason these Americans are falling in love with Trump. Both play to people's prejudices and their worst instincts. Hitler turned the Germans against their fellow Germans who were communists and Jews; Trump is turning the Americans against their fellow Americans who are the less fortunate in our society.
Trump's evil call to make America great again is a suggestion that America is not now great. He is telling us that there are things in our present society preventing us from achieving the greatness we once knew. If we can only get rid of them then we will become great again. Do you understand what those things are?
How different is Trump's pitch than this one: "The . . . Government will therefore regard it as its first and supreme task to restore to the . . . people unity of mind and will. It will preserve and defend the foundations on which the strength of our nation rests. It will take under its firm protection Christianity as the basis of our morality, and the family as the nucleus of our nation and our state. Standing above estates and classes, it will bring back to our people the consciousness of its racial and political unity and the obligations arising therefrom. It wishes to base the education of . . .  youth on respect for our great past and pride in our old traditions. It will therefore declare merciless war on spiritual, political and cultural nihilism. [It[ …. must not and will not sink into . . .  anarchy.. . .  We, men of this Government, feel responsible to [our] . . . history for the reconstitution of a proper national body so that we may finally overcome the insanity of class and class warfare. We do not recognize classes, but only the . . . people, its millions of farmers, citizens and workers who together will either overcome this time of distress or succumb to it  With resolution and fidelity to our oath, seeing the powerlessness of the present . . . to shoulder the task we advocate, we wish to commit it to the whole . . . people. . . . May Almighty God favor our work, shape our will in the right way, bless our vision and bless us with the trust of our people."
Stop and think to yourself when were things great in America. If you can pinpoint that time ask yourself why were they great? Then ask yourself if they were great for all Americans regardless of race, color, creed, national origin, or sexual preference.  And, if not so, if some Americans were not treated equally as others as they are now being treated why would you want to go back to that time?
Think, that is all I ask. Think.