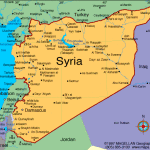 Obama's initial decision is to make up his mind on whether he wants to do anything other than just give money to help the Syrian refugees. That money probably about a billion a year is helpful to alleviate some of the suffering but it does little to help those trapped in Syria who are in desperate straits. Plus it merely puts off the day when something more should be done. If he decides the United States should do more to prevent mass starvation, debilitating malnutrition and the horror imposed on children and women by the Assad regime in a crisis which has been labeled the worst in the United Nations history here is what he must do.
The first thing Obama is to change his approached to Russia. For the first time since WWII it seems an American president has given Russia the right to veto our actions. This must stop. Russia is in Syria's corner. It has little concern about the lives of the Syrian people who are suffering. Its first interest is in protecting Bashad al Assad. It will never assist in his ouster as it has made perfectly clear.
Next, is to stop going to the United Nations looking for a solution. No real solution will come from there because Russia has a veto over any actions that will be taken. Going there is the same as dealing directly with the Russians.
Then we should inform those who are willing to stand with us that we are forming a coalition outside of the UN's involvement whose purpose is to stop the slaughter of the Syrian people and to alleviate their suffering. Those who have a similar interest are welcome to join in.
Whether we get any help or not, we have to go forward in this endeavor.
1. The extremely radical jihadist Sunni Muslims intent on disrupting society with no goal other than probably installing a Taliban-like government in Syria that will be a step backwards. I assume we can identify these people. They must be marginalized and eliminated or we should let Assad stay in power.
2. Other opposition forces who are less radical than the jihadists but are fighting among themselves. They must be united into a group that works together. This group, mostly Sunni Muslms, who will comprise the new leadership of Syria must agree to have a government in which the Shia and Alewites are allowed full participation.
3. The Assad government that clings to power and the people who support it who are fearful of a blood bath should they do anything other than to fight to the death to prevent the government from falling. We must assure them they will be fully protected in any future government.
Here is the plan:
1. Have the Arab states who are presently supplying arms to the opposition stop doing it. I assume our relations with the Saudis is such that we can do this.
2. Start working with the refugees to show that America cares (remember the care packages) for them and start to develop in their minds a favorable attitude toward us.
3. Deploy heavily armed  forces in Jordan. Two main heavily armored Army groups should be deployed: one north of Irbid, Jordan; the other just over the border south of the main road linking Amman with Damascus all the support power.
4. Deploy our air power including drones to Israeli bases. Use our long-term friendship and support of Israel to get its full assistance. Our close relationship with Israel is well-known so calling upon it is a natural.
5. Announce to Assad and his followers Damascus that we are slowly going to move our forces toward Damascus. Tell him this is a humanitarian invasion but any resistance to it will be met with a fearsome response. Advise him that as we advance a no fly zone will be in operation in front and over our troops.
6. Move the forces slowly expanding their areas of control. Notice all the people in front of our advance of our purpose which is to stop the slaughter of the Syrian people and to put in place an inclusive government in Syria. Ask those in front to come to us without arms and we will feed and protect them. Let them know we are not their to destroy their country or to rebuild it. That is their duty. We are just going to provide the opportunity for them to do it in a peaceful manner. 
7. Make every effort to avoid casualties of to the members of our forces. Have the NGOs move with our army to provide for the health and welfare of the people we bring within our territorial acquisitions. As we move and provide the security, the refugees who have fled to Jordan will be able to come back with us.
8. Eventually we will control greater and greater areas wherein we can keep the peace. As we move, the pressure on the Damascus government will increase as will the numbers of Syrians released from the grasp of hunger and war.
9. The secret will be the openness, the slowness, and the boldness of our approach. Our military assets will ensure our success. With a little financial help from our friends, it will not be a costly endeavor. None of the warring parties will win since the outcome must be a compromise that will secure the lives, safety and health of all Syrians. They'll be no unconditional surrenders other than for those on the extreme. There will be a change in the present government and the standing down of the jihadists.
10. Doing what we are doing now is a recipe for failure. Time to learn from our past mistakes and take a new approach. The result should be a less hostile Middle East. If done right, we can develop a good ally to work with. If it ended in a debacle which seems highly unlikely at least we can say we tried; and here, are motives would be pure since the "oil boys" have no stake in it.
11. Finally, we will make clear our end game is for us to leave as soon as an inclusive, stable government is formed. I don't think that will take long. Most Syrians have seen the horrors of war and must yearn for peace among themselves.