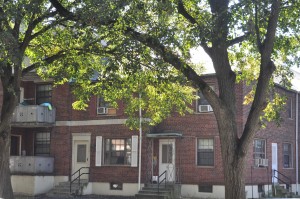 The one good thing about Trump is that he does remind me of the days in Old Harbor Village. I moved from there when I was ten years-old so I know what I remember are happenings in my very early years.
You know what happened. Trump said "North Korea best not make any more threats to the United States. They will be met with fire and fury like the world has never seen." He then expanded the line to "fire, fury and frankly, power the likes of which this world has never seen before" 
Obviously North Korea backed off making threats. Well, that's not true. It then a couple of hours after Trump's warning replied:  
"it was "carefully examining" a plan to attack Guam,  . . . Kim Jong-un is weighing up firing intermediate range ballistic missiles at the Micronesian island, situated in the Western Pacific, less than 3000 kilometres north of the Australian coast, according to state-run media. The plan involves creating an "enveloping fire around Guam."
Trump was in a box. North Korea did exactly what he told it not to so the consequences should have been "fire and fury." Only it wasn't. Trump had lost face, again. How would he save it. He resorted to doing the way we did it as kids. We bragged about something else when someone stood up to us.
Trump responded the next morning: "My first order as President was to renovate and modernize our nuclear arsenal. It is now far stronger and more powerful than ever before." All knew that was a lie and impossible to accomplish in such a short time.  It didn't matter to Trump just like it didn't matter to us first graders..
As young kids we'd get in disputes particularly during our made-up back yard games. "I dare you!" was a common threat. "Knock the chip off my shoulder another." When put on the spot a fight threatened but since neither really wanted to fight (although often you had no choice) you'd start with the verbal stuff. "Oh, yeah, my father can beat up your father." Or, "my father was in the Army and he'll get the Army to help me."  
This latter always bothered me because my father wasn't in the service so I had no military force to fight on my side. My only response to that would be: "oh, yeah!" which would switch the argument to: "oh yeahs." Arguing about those things avoided a fight and each contestant could eventually go back and after a few minutes we could continue playing the game which brought about the argument.
In effect now that Kim Jong-un called Trump he has changed the dispute into whose got the best nuclear force. Sort of silly since no one doubted that we did. But when you have to save face stating the obvious is no hindrance to doing it.
It's only that Trump is not six or seven years old. Children of that age are not expected to act like adults as their brains are still developing. We like to say of children they should be seen but not heard. Perhaps someone should tell Trump that.
I was going t say he should be told to think before he speaks. But I decided that would not be appropriate. I'm not sure he has the capability to think.