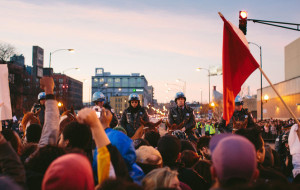 Friday night Donald Trump was scheduled to speak in Chicago at the campus of the University of Illinois (UIC). Yes, it was a college campus where young Americans and others gather to learn. How better to learn than to listen to a person who is running for the presidency than to attend his talk even if you think the guy is a great pretender.
On the day before his talk it was clear that he was not welcome there.  It was not only the students who were against his coming, something that you would expect because they are still in the process of learning about such things as free speech, but it was more than 300 faculty and staff members who also wanted him barred from speaking.
Now it is sort of strange that so many of the people who take pay checks from the University seem to have forgotten that picking on people for saying what they believe can be very costly. In November of last year UIC settled a suit brought by Steven Salaita who was hired to teach there but because he posted "incendiary statements about Israel during the country's war with Hamas in Gaza"  the job offer was withdrawn. The University Chancellor Phyllis Wise, who was not too wise at that time, said the job offer was rescinded not because of what he said but because the words were "personal and disrespectful words or actions that demean and abuse either viewpoints themselves or those who express them."
She said that after noting: "A pre-eminent university must always be a home for difficult discussions and for the teaching of diverse ideas. One of our core missions is to welcome and encourage differing perspectives. Robust – and even intense and provocative – debate and disagreement are deeply valued and critical to the success of our university."
Steven Salaita who now teaches at American University in Beirut settled for $600,000 plus $250,000 for lawyer's fees. Meanwhile, Chancellor Wise lost her job because of an email flap. Wise is now consulting her lawyers to see if she too can take a little extra away from UIC.  I'm not sure who the chancellor is at present but fortunately whoever it is he or she is not in any way to blame for Trump taking his lumps Friday night.
We are now being told that we can expect this to be the new normal with respect to Trump. Having shut him down once and tasted blood some are vowing to continue preventing him from speaking. Most of the media pundits who have been publishing "sky-is-falling" type editorials and columns against Trump, and even Romney the pretender to the Republican nomination who set the tone for these anti-Trump movements, blame Trump for the fracas caused by people who came to the rally in order to disrupt it. In the past when the Tea Party folk went to political rallies and disrupted them they were blamed and not the politician who was speaking.
Trump has had rallies with large amounts of people, up to 35,000 at one event, almost every other day for months. More than 99% have been peaceful as have more than 99% of the people who attended them. There have been as best I can tell less than a dozen incidents of violence all which have been constantly highlighted.
Trump when interrupted will tell his security people to throw out the people doing it. Unlike Bernie Sanders who surrendered the microphone to a couple of protesters when they demanded it, Trump pushes back against them. For that he is being routinely condemned. Just as people have a right to decide who to let into their parade, so too they have a right to decide who can attend their rallies. There is no right to disrupt such an event.
The highly serious pundit David Gergen intoned: "This is very dangerous. The candidate must set the tone for his rallies. That's his responsibility. He has set a tone that encourages his supporters to go out and punch people and that attracts more and more protesters to his rallies. He has to go to the country tomorrow and make it clear that while he wants to have rallies, they must be peaceful, that people come in peace and people leave in peace."
What nonsense. It wasn't Trump people who were not peaceful. It was the hundreds if not thousands who came to protest. Does Gergen think that Trump controls those people who according to the news were mostly Hispanics upset at Trump's policies? There were plenty of Mexican flags being carried and even a couple of Red flags which brings back past memories.
Chicago's major Rahm Emmanuel said: "the hateful, divisive rhetoric that pits Americans against each other demeans our democratic values and diminishes our democratic process." Has he been listening to our president lately? Emmanuel praised the cops for protecting the people's first amendment rights but failed to note that Trump lost his. The UIC police chief said: "The vast majority of attendees at today's events exercised their Constitutional rights of free speech and free assemble peacefully." What about the less than vast minority or Trump himself?
The lack of condemnation of the protesters who came for the purpose of disrupting the rally is striking. This more than anything encourages them to continue. No matter how much you may dislike Trump he still has a right to speak and to do so without disruption. The idea that he forfeits that right for whatever reason is something that also brings back memories of the way Joe Stalin operated.