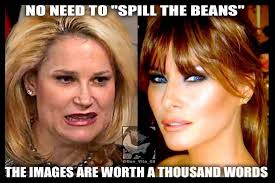 I have often wondered how some dictators have come to power in countries through the free ballot. I can see it now in the actions of the Trumpeteers. They are a small group of disgruntled people who have been motivated by a seemingly innocuous and meaningless slogan "make America great again" which when coupled with Donald Tump's rhetoric is as subtle as the old "you know where I stand" hateful racist slogan of L.D. Hicks. The Trumpeteers want to put into power a man who spreads ill will by denigrating other groups who he suggests are a danger to real Americans; a man who blames the others for any imagined ill that his Trumpeteers believe America is suffering from; a sloganizing man with no substance.
The Trumpeteers know who these people are who keep America from being great. They are identifiable by their features or names. They need not be forced to wear arm bands or other insignia so that we are able to tell them from the rest of us. We can look at them or read their names or listen to their speech and know these are the people who are attempting to steal away the rights of the Trumpeteers.
A major American party for the first time is presenting as its candidate a man who reached the nomination not as one seeking to unite us as a people but whose whole campaign has been divisive. A vulgar man who talks about his private part in a public forum; a crass and boastful man who avoided serving his country either in uniform or public service who trashed a true American hero who spent five and a half years as a prisoner of war who refused to go home when he had the chance ahead of any others.
The Trumpeteers heard their leader say about John McCain: "He's not a war hero. He's a war hero because he was captured. I like people that weren't captured, okay? I hate to tell you. He's a war hero because he was captured, okay?"  That statement should have put him out of the race yet strangely in their zealotry the Trumpeteers were not bothered. It is eerie that statement which is an insult to every many who put on the uniform and fought in combat for our country did not do him any damage. Nor did his his insults hurled toward Mexico and Mexicans nor did his insult of the wives of other candidates: saying of Jeb Bush that he "has to like Mexican illegals because of his wife" and that "Jeb Bush is crazy, who cares that he speaks Mexican" and Heidi Cruz, Ted's wife, by saying: "Be careful, Lyin' Ted, or I will spill the beans on your wife" and later posting the above picture of Heidi and his wife.
 This is a man who resorts to gutter politics  attacking women, a man who has taken crassness to a new height, a man who demeans military service, and a man who has spread ill will among Americans at a time when healing is needed more than any time in the past sixty years. Rather than being rejected for spewing his hate his rabid Trumpeteers blindly follow on after him excusing his evil, accepting his lies and blaming the others for what they perceive as being wrong with America.
The Trumpeteers want America to be what it cannot be. The Trumpeteers forget that America was founded and controlled by intellectual and thoughtful men who prepared for the time when a crisis like this would arrive. American history is full of hate filled groups that tried to gain the ascendency but ended up in the dust bin of history.
There are too many of those "others" here now. America is too interconnected with the world to go it alone. We cannot walk away from our costly alliances which keep the peace. The horse of hate left the barn a couple of generations ago.
Fortunately, it is impossible for Trump to win. I have written before how few Latinos or African-Americans will vote for him. His insults of women has him viewed unfavorably by 73% of registered women voters according to a March poll. All that are left are a few old white men.
Trump and the Trumpeteers will be viewed by historians as the closest America has ever come to having brownshirts or blackshirts take over the government. America is too good and too diverse to allow this to happen. We will allow America to continue to be great by making it a place where all can live in peace and be judged by the content of their character and not the color of their skin or the deity whom they worship.