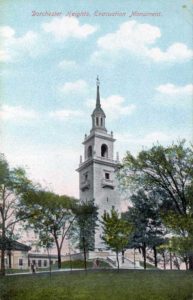 Some have inquired about the two blondes looking at the moon while sitting at Dorchester Heights. The first thing to understand is that Dorchester Heights is not in Dorchester anymore than the Dorchester Hotel in London is in Dorchester. The Dorchester Heights is located in South Boston which I did not understand how that could be when I was a youngster.
You'd expect then that the two blondes were young ladies from South Boston if they were at that location this dark summer night. If that is what you thought you may be wrong.  They could be from anywhere. We were never told where they were from.  All we knew about them was that they were dropped off there by Tucker and Spring who had some business to conduct in Southie and did not want to involve them in it. Yes, at that time these two blondes were their girlfriends. How long after this night they stayed together we're not sure. That is not important for the story.
The reason I know any of this is a cousin of mine who lived in Southie happened to be at Dorchester Heights this night  He was with his girlfriend at the time sitting a short distance away. They needed a church key so he went over to see if the blondes had one.  He got into a chat with them. They did not have one but they knew Tucker — the one named Ivanka said "Tucker has one on his key chain. " My cousin knew of a Tucker from my siblings  so he said "is that Tucker of Tucker and Spring?" The blondes laughed and affirmed that it was and both would be back shortly.
Tucker and Spring went together like peanut butter and jelly. When you thought of one you thought of the other. They had prosaic first names as most people had in those days. They had the same middle name: "Trouble." When they were together they lived up to their names as double trouble.
I first saw Tucker — he was several years younger —  one summer afternoon when I was in  a my teens walking up Playstead  Road coming back from the  beach.  A car drove by me.  Looking at it I saw this kid about ten years-old sitting on the rear bumper (they had those things in those days) clinging to the trunk latch. How he did it left me amazed. I'd later learn his name.
Unfortunately neither Tucker or Spring lived long lives. Tucker could never get the monkey off of his back; Spring didn't seem to understand that the protections afforded in the USA did not apply on some of the Caribbean islands.
My cousin stood near by waiting and he listened to the blondes speaking to each other. The moon was full and lighted up the grass leading up to the monument. Both were sitting on a blanket gazing at it.
The better looking one, who said she was with Spring, asked her friend: "I wonder what is closer. The moon or Miami?
Her friend said: "Duh! Can you see Miami?"
My cousin never told.me if he got the church key.