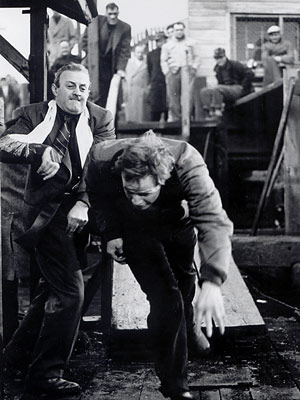 The waterfront murders are two more to notch into Whitey's belt. Some may argue as to how Whitey got the information that led to his murdering Brian Halloran and the guy who happened to be giving him a lift, Michael Donohue, in May of 1982 but there is little doubt he was the guy doing the shooting.
You may recall how Louis Litif was supposedly murdered by Whitey.  The evidence used to reach that conclusion was the statement of Brian Halloran that he dropped Litif off at Triple O's the time he was murdered. Halloran at the time he made that statement was trying to get a deal for himself. He had been charged with the first degree murder of George Pappas at a Chinatown restaurant.
Halloran went to the FBI agents Brunnick and Montanari and gave them that story. He also told them that Whitey had something to do with the murder of Roger Wheeler out in Oklahoma. He said that he met at the condo of John Callahan with Whitey Bulger and Stevie Flemmi and in the presence of Callahan they asked him if he would be willing to go to Oklahoma and murder Wheeler.
That story was nonsense. As I will explain in a later post Halloran was not even on the radar when it came to a hit on Wheeler. Even if it that was not true then anyone knowing the players would understand that neither Whitey nor Flemmi would think for a second to use Halloran who was known as a drunk and drug user for a hit. He would have been the most unreliable person they could have found.
Halloran also told the FBI agents that he had three attempts on his life. He said that Pat Nee had tried to set him up to be killed. Nee we would learn from Flemmi would be the other person who shot Halloran.
What Halloran knew about the hit of Wheeler came from his buddy John Callahan who had arranged it. Halloran was smart enough to know that to get out of a first degree murder rap and into the federal witness protection program he had to offer up someone much larger than himself. That's why he implicated Whitey.
Of course none of that matters to the understanding the situation. What does is that Halloran was willing to put Whitey into both murders. Whether he was telling the truth or not was of no consequence, in either case Whitey was in the position where he was going to be charged with murder based on Halloran's evidence.
It is the common belief among the prosecutors and media that Whitey learned from FBI agent Connolly of Halloran's statements implicating him. Agent Morris will testify that he told Connolly about this and that Connolly admitted to him that he told Whitey and Stevie. But it is just as likely that Morris himself learned of the information and he passed it on to them. Morris would testify that at one point after Halloran was murdered and he planned to give more information to Whitey about a wiretap he said to Connolly, "I don't want another Halloran." Strange he would testify like that when the day after Halloran's murder he was sitting down with Whitey having some Beck's beers.
Again it does not matter how Whitey got the information. Agent Montinari testified Halloran had told his lawyer he was cooperating with the FBI; he said they wired Halloran and two FBI  squads knew he was wired since they had to cover him; Halloran wore a wire three times talking with Callahan. None of the conversations were productive. Halloran though Callahan was avoiding him.
Agent Montinari said fellow agent Daly had filed a report saying his informants told him they had seen Halloran talking to the FBI. The people on the street believed he was cooperating with the FBI. In other words there were a plethora of ways Whitey could have learned Halloran was cooperating and not through any FBI leak. When the government in FBI agent John Connolly's trial tried to prove Connolly had given him the information the jury rejected its assertion. But again that does not matter to this issue.
What does is whether Whitey murdered Halloran and Donohue. He certainly had the motive since Halloran was implicating him in murders. The murder happened in an area, the South Boston waterfront, that would be quite familiar to Whitey. Weeks's description of it rings true. Flemmi expressing his disappointment in not being a part of it also has the same ring. There are others with motives to murder Halloran but his murder for me has all the trademarks of a Whitey production.