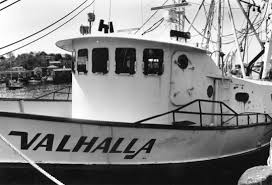 McIntyre was murdered at 799 Third Street, South Boston. This is a house that was owned by the brother of Pat Nee, Michael. It had a basement that was not only unfinished but had a dirt floor into which three bodies would be interred. When John McIntyre was buried in that basement one other body had been laid to rest there. After John McIntyre the final one buried was Deborah Hussey.
To truly explain John McIntyre's murder it will take me several posts. Without the history and understanding of the people involved we are fed the conclusion that Whitey Bulger was upset when he learned that John McIntyre was an informant so he murdered him. How did he know he was one, well, the usual suspect John Connolly is to blame.
The story is much more complicated than has been presented by the prosecution. McIntyre might have been an informant but he was not providing any information against Whitey.  He never met Whitey and only had vague information that he was associated with a liquor store in South Boston.
Like with all these murders I will show that with a little examination of the true facts the accepted story makes no sense. As usual the one that is out there was contrived to get the real murderers off the hook. Also, the one person who was most responsible for it was not even charged although he admits bringing McIntyre there and burying him in the cellar. We are supposed to accept that he stepped outside to have a cigarette and had no idea the murder was taking place.
As we've seen with the other six murders I have examined, throw Whitey in where you belong and despite it running up against all the available facts it will be believed by the media and the federal prosecutors.
To understand what happened to John McIntyre it is necessary to first start with him. When we come upon him he is a member of a gang of marijuana importers under the leadership of Joe Murray. This is a gang from Charlestown, often called Townies. McIntyre is not from Charlestown which is a very tight neighborhood but rather from Quincy.
He is part of Murray's gang because he is a skilled marine mechanic. Murray needs him to keep his ships running. Murray has for years been bringing ships loaded with marijuana into the Boston area and has become very wealthy doing it.
McIntyre is a trusted associate of Murray's. When Murray traveled to Amsterdam for the purpose of arranging for a huge shipment of marijuana McIntyre and four other guys from Charlestown go with him. The Drug Enforcement Administration (DEA) agents follow them and take photographs of them all during that trip.
Murray has been using warehouses in South Boston to store his marijuana. When Whitey Bulger finds out about it he extorts Murray into paying him large six figure amounts to do that. Whitey will be blamed for bringing drugs into Southie even though it is others who are doing it. Like with all those who use Southie to deal drugs Whitey charges them a fee to do so.
Murray will be the one who provides a ship and money to raise arms and deliver them to the Irish Republican Army (IRA). One of the major figures behind the planned shipment is Whitey's partner in the South Boston rackets, Pat Nee. He was born in Ireland and a huge supporter of the IRA. Nee has been spending months gathering in all types of weapons for shipping to Ireland. He is in continuing contact with Joe Murray and John McIntyre during this time in 1983 leading up to 1984.
Murray buys one ship the Surge to ship the arms. McIntrye advises Murray after working on it for a few weeks that it cannot make the trip across the Atlantic. Murray goes out and secures another one in June 1984. He names it the Valhalla. It will be the ship that will deliver the arms to another ship that will be waiting off the Irish coast.