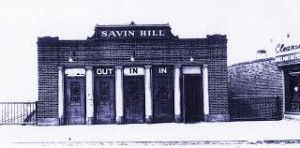 James "Spike" O'Toole lived in Savin Hill all his life except for the time he received free room and board while residing in one of the state's prisons. As I kid I was in a coffee shop across from St. William's Church and one of my friends indicated to a guy and told me that was Spike O'Toole. I have no idea whether it was but we were aware of him as kids and knew that he was not a nice guy.
I knew little about Eddie Connors although he seemed to be well known to guys a few years younger. He bought a bar in Savin Hill which he called the Bulldog. When I lived there things were different. Next to where the Bulldog went in was a local bar called J & K's (Joyce and Keane's) and across the street on the same side of the entrance to Savin Hill Station was Moakley's.
The corners opposite the bars had drug stores: Carl's on one corner and on the other was Irving's. Carl's was new;  Irving's had been in Savin HIll for a long time. It used to be "over the bridge" until the Southeast Expressway was constructed tearing away all those businesses along with several three-deckers where some friends lived.
Eddie like Spike was a hoodlum. I went into the Bulldog a couple of times and found the crowd was not to my liking. Too many wise guys seemed to be in the place.
Although Whitey probably had no beef with Spike others in Winter Hill did. He was in the 1960s gang war on the McLaughlin side. He was said to have tried to kill one of the Bennet brothers who was in the Roxbury gang and that he did a good job shooting down Steve Flemmi's brother Vinny who badly wounded survived the attack on him. He was said to have hit some others. He was one of the few survivors from the McLaughlin side which lost to the Somerville gang under Buddy McLean and Howie Winter. If my memory serves me right Spike had been shot at several times by others which had no relation to that gang war.
In December 1973 the gang wars were over but the memories lingered. Winter Hill knew he was capable and was not to be trusted. Spike had sought to make peace with it.
Spike liked his alcohol. He drank at the Bulldog. One night Winter Hill was tipped off that he was tipsy and planning to walk home. They waited and followed him from Bulldog to Dorchester Avenue where they did him in. The story told is that Whitey was driving the car but was unarmed.
That would make sense. Whitey would be familiar with the area in that it was adjacent to Southie where the other guys on the hit team were from the other side of the Charles River or Milton. This was probably the first murder that Whitey participated in so closely. Tommy Sperrazza a vicious killer who turned federal witness and got out of prison early said: "once you've murdered your first person the rest are easy."  Whitey had felt the rush and the power and now had his credentials even though his particpation was only that as a driver.
Eddie Connors would be murdered at what the kids from Savin Hill called the Eddie Connors Memorial phone booth located on Morrissey Boulevard. It was a stand alone phone booth outside of a business establishment. Eddie went there one night to receive a call from Howie Winter on what he believed was a "safe line." By that he figured no one from the law would have a tap on it. The phone was probably a five minute ride from Bulldog. The line might have been safe but the booth was not. Whitey and Stevie were waiting for him to show up and gunned him down as he stood in the booth.
The reasons for his murder are many. He was talking about the O'Toole murder, he was being intercepted talking at Bulldog's and was going to turn state's evidence, he was in an armed robbery and getting ready to deal with "the man," and on and on. The true reason will never be known; the participants will.
Again because it was in Whitey's area — he knew Morrissey Boulevard like the back of his hand — he would be driving. This time though he wanted to have a greater part of the action. He had only been present when Spike O'Keefe and Paulie McGonagle were murdered. Now he would up his game and become one of the gunmen.
Whitey put himself in the jackpot on this one. He was talking on a recorded telephone from the jail to his nephew. He referred to Connors's murder in the call and to refresh his nephewis recollection made a machine gun sound: "rat-a-tat-tat-tat- rat-a-tat" which any listerner would be convinced he imagined himself back at the scene firing his burp gun at him. What  a moron!
After Eddie got killed I'm told that the word on the street in Savin Hill had Whitey as one of the guys who did the hit. You would think that if the kids knew who did it the cops might have had an idea. Apparently they never did for it took until John Martorano testified in 1998 for the full story to come out.  You do have to wonder during all these murders what the cops were doing?  Again like in the gang war of the 1960s they seemed to be clueless.
Add two more notches onto Whitey's belt. He has now done six of the fourteen we have examined.