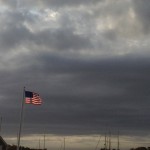 When I got home last night from my trip I had a message from a nurse who had been married to one of the top investigators who chased after Whitey for years and almost had him a couple of times. She asked me if I wanted to send flowers "to Boston Medical Center to Whitey Bulger or did I want to go and visit" him.  She went on to say, your "buddy's there. What do you think? Is he faking it?"
That's the first time I learned Whitey had been taken to the hospital. The Boston Globe reported on Sunday at 1:48 a.m. Plymouth firefighters were called from the Plymouth jail to pick him up and take him into Boston. Google directions says the trip is a tad over 40 miles. The Globe then reported, "Officials who were briefed on the situation but asked not to be named said Bulger had been complaining of chest pains."  That's pretty much worthless information citing anonymous sources. The officials could be members of the night clean-up crew at Plymouth prison.
I wrote the other day about the great interest in this case shown by a packed courtroom for a motion hearing which the defendant Whitey did not attend. Concomitant with that, I would think, is a duty by the government to keep the people informed. Shouldn't we know why this forty mile trip in the middle of the night which we paid for was necessary?
The Globe reports, "The Plymouth County Sheriff's Department, US Marshals Service, and the US attorney's office in Boston refused to comment on Bulger's condition." 
Is there any logical reason why the public is being denied this information about this notorious man? It is important for us to know this so that we can evaluate the behavior of our government in handling this case. Judge Stearns is about to make a decision on Whitey's motion to continue the date of his trial. If Whitey is truly ill, that will impact his decision? He may decide that the interest of justice demand one thing or the other because of his condition. Aren't we as members of public entitled to know this so that we can consider the wisdom of his decision?
Maybe, as my nurse friend says, "he's faking it."  You've all read of these Mafia guys who were never brought to trial because they were deemed "too sick to be put on trial."  Is this one of Whitey's tricks to bring about a delay?  Remember, Whitey wants to stay in the area and not get shipped out to ADX Florence.
Just the other day, last Thursday, J.W. Carney, Whitey's lawyer, said Whitey was in good health.  Did Whitey learn that Judge Stearns denied his motion for a continuance so he decided to go about getting a continuance in the gangster way? He's a gangster and knows these gangster moves.
Whitey's condition cannot be hidden under the "it's under investigation" mantra usually spun out by the investigating agencies. Surely Whitey's health is not a state secret nor is it a private matter. The family of the victims and the general public are entitled to this knowledge. Many are judging the Justice Department and the FBI and the criminal justice system by what is and will happen in this case against Whitey. We cannot exercise our rights as citizens properly to make informed decisions if the knowledge of matters in which we are concerned is hidden from us.
Which brings me to a second issue. Why is Whitey being kept by the federal government in a county jail over 40 miles away from the place of his trial?  Aren't there any jails or lock-up facilities closer than Plymouth? We've already seen the sad spectacle of flying Whitey to a hearing in a helicopter.  We've seen the mighty police caravan whisking him up Route 3 through morning commuting traffic inconveniencing the regular commuters. The cost of these exercises range in the tens of thousands of dollars just to get Whitey back and forth to court. (Route 3 will look like a three-ring circus when it becomes a daily occurrence.)
Why is he being transported to a hospital in Boston as if there are none on the South Shore?  Why if a tax paying, hard-working citizen in Plymouth has an emergency he goes to the Jordan Hospital or the South Shore Hospital but Whitey gets taken to Boston? Will they soon be flying him to the Cleveland Clinic to see the specialist of his choice? Under Judge Wolf's rationale that it is cruel and unusual punishment under the Eight Amendment decision to not provide a sex readjustment surgery for Michele Kosilek that might be the case.
Secrecy and the waste of money seems to be what the government has become. Unless and until we citizens demand openness to all things except those necessary to preserve our national safety and require prudence in the handling of our finances we are failing in our obligations. Government prefers to operate in the dark as we've seen here in the matters surrounding Whitey Bulger and will take as much power from us as we are willing to cede. You all have read that "Governments are instituted among Men, deriving their just powers from the consent of the governed, . . ."  We cannot consent to government actions if we cannot know them or close our eyes to them.