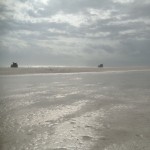 As those of you who have entered into a project to which you have devoted most of your waking hours, you know you sometimes the subject matter of the project will come and visit you, sometimes at night while you sleep, and at other times.
This I beheld or dreamed it in a dream:
There spread a covering fog across the old Northern Avenue bridge, and in it, or under it I found myself walking toward the federal courthouse in Boston. Vehicular traffic no longer passes over it so I walked more toward the middle of the roadway, away from the bridge's edge because of a strange feeling that the harbor waters were angry. It'd be best I kept my distance from the edge of the bridge.
Looming out of the dense air straight in front of me stood a man of medium height, thin build, dressed all in black with white sneakers. Staring into the obscuring fog I thought I recognized the man. Closing in to him I thought he looked like Whitey.
"Whitey," I exclaimed.
"James," he responded showing no offense at my using his hated nick name.
"James," I repeated. "Are you James Bulger – you are aren't you." I have to admit I was confused. What would he be doing here?
"I want a word with you," was all he said.
He holds me with his glittering eye – I had no choice but stand still – I listened like a three years child –  Whitey had my will.
"I heard you wrote that I should go down like a man." He said. "You said I should just wrap everything up and not testify. Is that so?"
I didn't know what to say. The shock of being face-to-face with a man I'd written about for a year tethered my tongue.
"Ain't gonna happen." he said.
Still tongue-tied I was at as loss for words. Having heard how the man operated I looked around, as far into to the fog as I could, to see if others were with him.  Shadows seemed everywhere and some brushed by us. I tried to walk past. I found myself as still as stone, I could not choose but hear.
I looked more closely at him.  His blue eyes glared at me like blue ice. He was much younger, more the man I saw photographs of in his forties and not the old man I see tired and weary sitting in his prison seat in the court room with invisible shackles binding him to the chair, his every move outside of sitting being choreographed by others.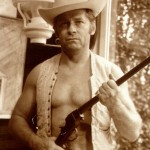 He may have at one time terrorized others but now others terrorize him. Jailers. The men who stripped searched him seven times a day when he was in his prison cell for the mere satisfaction of sating their sadistic impulses. The men (are their women jailers?) who decide the level on the misery index he will be subject to minute by minute. Like a whipped dog his movements are controlled by their hand gestures. He cowers ever ready to please.
"D'ya hear me? Ain't gonna happen!"
"It was just a thought," I said trying to recall what I said.
It's always easy to be brave from the safety of a computer in an air-conditioned room. Was I just a "tough with a typewriter" type guy? A tablet pretender. Was I like some of those media people I see strutting around, pretend gangsters, throwing the F word around like we did as 8 or 9 year olds with our puerile belief that words make a man?
"Keep your thoughts to yourself," he smiled, not in a mean way, but friendly like.
I immediately felt the fear molt. Dare I say, it was a kind smile that came across his face, perhaps a recognition that I too was an Old Harbor Village boy who lived on the same street he would come to live on, O'Callaghan Way.
"No offense taken," he went on. "I know you too have to play the media's game."
"I try not to," I murmured back. "I try to tell it as I see it. I have no boss to please."
He seemed impatient as I talk. The smile had fled.
"I have little time but I must tell you this," he interrupted as he glanced back over his right shoulder looking around as if to see if anyone was listening.
"I can't let others tell who I am or what I did. I will only have one chance to tell my tale, the truth of the life of James Bulger, Whitey to you."
I replied as he was starting to move away from me , "You'll tell your story but when your cross-examined the government will undo all you say. It'll tell the same old story we've heard over and over again.
I walked ever more faster to keep pace with the spectre that seemed to be hurrying out of my presence, "Nothing will change. Whit . . .Jim. Nothing! The government will have the last say and that will be what the media will tell the people."
Suddenly he stopped and stared at me.
"Who said I'll be cross-examined," he said. "I can't be forced to answer their questions. I'll tell my story and sit down."
He must have seen my stunned face. He laughed, a strange laugh. I stood still staring at his vanishing figure and through his laughter I heard him shout, like the way the witnesses testified he had a habit of doing. "It'll be brilliant. It'll be brilliant."
It seems there was more but I thought I would get this down as soon as it came flooding back to me. I'm not sure I imagined it, dreamed it or somehow it actually happened. It's already fading fast from my memory. I need time to reflect on it.  I'll do that later today and write my thoughts tomorrow.