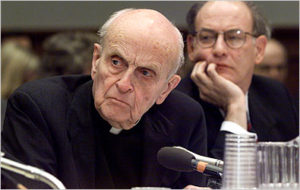 The Whitey Myth arises because of the failure to put events into their proper place in time. We know much about James "Whitey" Bulger today because of all the books, the overtop media coverage of him, as well as all the all the gangster testimony telling of his exploits. Too many take what we know today about him and assume that was known back when he began his criminal career. In doing that they attribute to people knowledge that they could not possibly have possessed at the time they acted.
With Whitey there was no limit to ascribing evil motives to those who interacted with him in his past. A prime example of this is the involvement of Father Robert Drinan, S.J. with Whitey back around 1956. To put things in context, it is necessary to know a little about Father Drinan. He was born in 1920, grew up in Hyde Park and graduated from Hyde Park High School in 1938. The year he graduated the favorite movie stars of his class were Bette Davis and Spencer Tracey, Tommy Dorsey was their favorite band leader, and Gone with the Wind their favorite book. Father Drinan was voted the most likely to succeed.
He went to Boston College. To understand the times he lived in he and a classmate went to see the movie Gone with the Wind. They were startled when Rhett Butler said: "Frankly my dear, I don't give a damn!" not believing he would utter the word "damn" on the big screen. He graduated in 1942. He joined the Jesuits. A classmate a year ahead of him, Daniel Berrigan, said he "had a good sense of humor, liked to joke, worked very hard, and clearly aspired to be the best." 
In a book about his life, Bob Drinan, The Controversial Life of the First Catholic Priest Elected to Congress, the author Raymond A. Schroth, S.J. noted: "But Drinan was engaged in one extra activity that profoundly affected his social philosophy. He taught religion to juvenile delinquents and adult prisoners. Twenty-five years later, prison reform would be another of his driving issues as a congressman."
He was ordained a priest on June 20, 1953. After his ordination he spent a year studying theology at Weston College located in Weston, Ma. "This time exercising pastoral ministry in a variety of places – parishes, retreat houses, hospital and military bases."  In 1954 Drinan left for Italy spending time in Florence and Rome doing advanced studies. The author of his biography noted: "Drinan shared the two mainstays of his philosophy "that in a democracy: faith must respect a wide range of legitimately divergent views, and that it is society's oblligation to help all those who are less fortunate than we."
Drinan returned to Boston in 1956. He became dean of Boston College Law school having passed the bar examination the same year. He would stay in that position for 13 years.
When Whitey went to the  penitentiary in the summer of 1956 he listed Father Drinan on a form the people he would like to be in communication with as a friend.  The prison officials asked the Boston Police to check with Father Drinan to see if that was all right. He told them he had known the Bulger family for a long time. He said he would be happy to correspond with him.
Looking at Drinan's life by 1956 there seemed to be little time for him to have become involved with the Bulger family. They were not from the same neighborhood, none of the Bulgers were at Boston College when he attended there. Except for the period 1953 to 1954 when he was at Weston College and exercising his pastoral ministry in various parishes it seemed they would not have connected with each other. Was there something in the 1953 to 1954 period that would have brought them into contact?