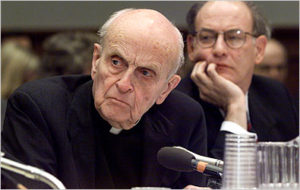 To try to ascertain how Father Drinan and the Bulger family may have got to know each other in the 1953 to 1954 period I looked at what the family was doing around that time. Whitey's next younger brother was Bill. He finished up his first year at Boston College in 1953. He then volunteered for the draft. He served in the Army from September 1953 to August 1955. He was stationed at Fort Dix, New Jersey and the last eighteen months at Fort Bliss, Texas. It is difficult to see any relationship developing between him and Drinan in the months July and August of 1953.
The matriarch of the family was Jean Bulger. She and the children were actively involved in St. Monica's Catholic Church across from the John A. Andrew School in South Boston. The oldest of her children was a girl named Jean. Whitey was the second oldest. It seems to me that because of the tragedy suffered by Jean who was born in May 1928 Father Drinan became close with the family. As noted earlier, Father Drinan included in his ministry during this time period "military bases."
Jean married  six-foot-six inch Joe Toomey who was also from South Boston. He graduated from South Boston High School in 1945 and went on to graduate from West Point in 1949. He was commissioned a second lieutenant. He would go to Korea where he led an infantry platoon. On October 20, 1950,  the Korean Casualty list put out by the Army reported that he was wounded. The Boston Globe reported on November 6, 1950, that he had received the Silver Star for carrying a wounded man 300 yards while under enemy fire near Waegwan, South Korea. On December 13, 1950, he was reported as missing in action.
On August 14, 1953, it was reported the Army had "identified 121 American soldiers reported by the Communists to have died in Red  prison camps." Joseph Toomey was listed as one of them. He died in captivity in 1951 of  malnutrition. A  funeral mass was said for him  at St Monica's Church on October 24, 1953. It could very well have been that brought Father Drinan who may have heard of this to minister to the family to ease their pain and offer comfort.
Whitey was arrested several months after Bill came home from his military duty on March 4, 1956, by a score of FBI agents at a Revere nightclub. A federal warrant had been issued in January charging him with bank robberies. The Globe article discussing the arrest noted he was previously arrested in 1948 for attempted criminal assault and in 1952 for attempting to steal a beer truck. The outcome of those arrests did not result in an incarceration nor does it appear a conviction.
The Feds had him cold. His fellow robbers had turned state's evidence against him. He worked out a deal with them where they would not charge his girlfriend who was with him during the robberies. He would plead guilty. He did. At the age of 26 he was hit with a sentence of 20 years in June 1956.
According to one article, "Two days after Bulger was sentenced to 20 years in prison, while locked up at a local jail while awaiting transfer to a federal penitentiary, he wrote to Drinan, congratulating him on his recent appointment as dean of Boston College Law School and thanking him for visiting him recently."  If true, then it is clear Father Drinan knew Whitey prior to that time.