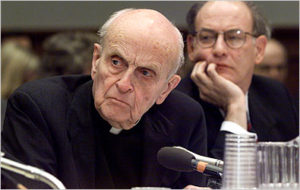 Father Drinan had returned from Italy in the summer of 1955. He was assigned to Boston College Law school as a faculty member. He would be named the dean the next year in 1956.
Bill Bulger returned from the Army in the summer of 1955. He would start his second year as an undergraduate at Boston College. He was not in the law school. It is possible that they may have interacted because of the prior relationship Drinan had with the Bulger family. Even then, there is no record that they did at the time or that it would have been anything more than chit-chat.
A Catholic priest being friendly with a Catholic family and trying to help out one of the family members who gets in a jam is something quite ordinary. Father Drinan visiting Whitey after he was sentenced considering his interest in prisoners and his relationship with the family would be something expected. Even without that relationship, he would simply be following the teachings of Jesus who said: "when I was in prison and you came to visit me.'"  
However with the Whitey Myth the ordinary is turned sinister by those fanning the fires of the Whitey mania. No matter what happened in the life of Whitey they seek to find something evil not only in Whitey but also his brother Bill or any associate. These people seem caught up in the idea that what we would learn about Whitey after the late 1990s was known about him in 1956.  In truth what was known was he had been arrested a couple of time and was just  sentenced to a heavy bit having pleaded guilty to armed robberies.
David Boeri wrote an article in May 2012 on WBUR News exclaiming how Whitey wrote a letter in October 1956 when he was 27 years old from the Atlanta Federal Penitentiary.  He had been in prison for only a few months. The letter was to Father Drinan asking him to see if he could do anything about him being in an eight man cell. He hated the noise and chatter. He said if he complained about it he'd end up in a fight. He was looking for some way to get a little peace and quiet. Obviously, never having been in prison he was having a hard time adjusting. The letter was never forwarded to Father Drinan but was found in his prison files many years later.
When the media got a hold of his letter you can see the effects of the mania. Boeri writes:"How in the world would Drinan be connected to the "habitual criminal?"" It was suddenly wrong for a priest to receive a letter from a guy in his twenties doing his first sentence in prison. Boeri asks as if some dastardly plot was afoot.
He then answers the question. He stated that it was because Drinan knew Whitey's brother Bill. Not having anything to back that up he explains that Bill "may have been one of Drinan's favorite students."  We know that is absurd. Drinan never had Billy as a student. Boeri plain out manufactures a situation that could not have existed.
It gets worse. Here's what one of the author's of the Black Mass book, Dick Lehr, said about this letter. "The inference is that it's through Bill Bulger there's established a beachhead with Robert Drinan."  Aside from not making any sense, what is it supposed to mean. It sounds like Bill, Whitey and Father Drinan are preparing to make a D-Day type of landing on Carson Beach.
Boeri then starts going off the rails. With the little information he had he tells us he talked to Drinan's former congressional aides. He tells them that Drinan had a relationship with Whitey Bulger. I guess that's all he told them because he reported: "they were stunned."  It gets worse.