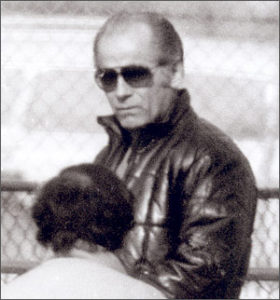 You heard of the Winter Hill Gang (WHG) I assume. That was the gang James "Whitey" Bulger supposedly headed up. He never did. I do not suppose you can tell me when it started, or where it's headquarters we're located; or how long it existed; or who were in it; or whether it was a gang at all.
I suggest the first step in answering these questions is to determine what is meant by the word gang. The federal government has set out its definition of a gang: " An association of three or more individuals; . . . Whose members collectively identify themselves by adopting a group identity, which they use to create an atmosphere of fear or intimidation, frequently by employing one or more of the following: a common name, slogan, identifying sign, symbol, tattoo or other physical marking, style or color of clothing, hairstyle, hand sign or graffiti; Whose purpose in part is to engage in criminal activity and which uses violence or intimidation to further its criminal objectives." It excludes "drug trafficking organizations, . . . traditional organized crime groups, such as La Cosa Nostra, . . ." 
The states have a different definition: "criminal street gang' means any ongoing organization, association or group of three or more persons, whether formal or informal, having as one of its primary activities the commission of one or more of the criminal acts […], having a common name or common identifying sign or symbol, and whose members individually or collectively engage in or have engaged in a pattern of criminal gang activity."
The ideas is that it is an association of three or more people gathered together under a common symbol engaged in criminal activity. I suppose if it was two people who associated no one would consider it a gang.
Growing up we talked about gangs. My first encounter with one was shortly after I moved at age 10 to our new home in Savin Hill Dorchester about a mile and a half away from Old Harbor Village in South Boston where I spent my earliest days.
It was in late summer approaching dusk. I was sitting on the stoop of my house when there came what seemed to me hundreds of guys who filled the street from sidewalk to sidewalk from around the corner of Saxon Street onto Belfort Street walking past my house turning right onto Sagamore Street heading toward South Boston.
I was told by one of the boys that they were the Loopers and Trojans which were Savin Hill gangs heading to Southie for a gang fight against the Shamrocks. I never heard what happened. Later on I'd hear stories about other gangs like the Red Raiders from Roxbury who were supposed to be particularly bad. They hung down at the Prairie. In high school there was a gang up at the Eddie Eddie square whose name I now forget who jumped a few of us one night.
I hung around with a large group of kids. We had no name.  In our early teens we came back from a movie called "The Amboy Dukes" seeking to imitate them by getting ourselves switch blade knifes. A year or so later we had a symbol. It was a large diaper pin which was purloined from National Laundry on Dorchester Avenue.  We wore it on a front loop of our dungarees. Supposedly we could hold it in our hand and use it to stab someone which no one ever did. Were we a gang? Probably not under the Fed definition. We weren't into criminal activity. We hung around, leaned against street poles, played street sports, and engaged in some hijinks that probably could be stretched to be considered criminal .
There were two or three kids among twenty or more of  us who were legitimate criminals stealing cars, breaking into buildings, and the like but they were sole operatives. I assume that did not taint the rest of us even though we were friends. Although I'm sure the Feds could come up with a chart making us all part of their activities.