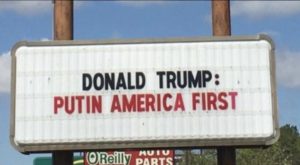 I usually rise early and check on the BBC news among others. I'm not sure whether that is included in Trump's description of "fake news" or not. I would note that a poll taken by Rasmussen showed the winner of the fake news trophy in the United States is Fox News so maybe he only includes American news as fake.
On the last day of November I saw as the headline in BBC news of  "North Korea: Russia accuses US of goading Kim Jong-un" 
The article read: "Russian Foreign Minister Sergei Lavrov has accused the US of seeking to provoke North Korea into stepping up its nuclear missile programme."
"Wow," I thought, "how did the Russians turn it around to aver we were provoking North Korea."
The article went on: "He rejected a call by the American envoy to the UN Security Council to sever ties with the North after its latest ballistic missile test."  I suppose that makes sense. An article in September noted: "Through Russian eyes, then, North Korea's resolve in the face of American and international pressure is admirable and worth supporting. So while Russia may seem to go along with UN sanctions on North Korea, it works behind the scenes to make them as toothless as possible."
Lavrov was speaking on a visit to the Belarussian capital Minsk. The article notes, "Mr Lavrov asked whether America was actively seeking to destroy North Korea." It quoted him as saying: "One gets the impression that everything has been done on purpose to make Kim Jong-un snap and carry out further inadvisable actions."
Now what could it be that the United States has done to make Kim snap. You don't think he was referring to the many insults Trump has thrown at him, do you? Never thought it was a brave or wise foreign policy to insult other leaders especially one that is known to be on the brink.
Lavrov went on to say the Americans "should explain to us all what they're after. If they want to find a pretext for destroying North Korea, as the US envoy said at the UN Security Council, then let them say it outright and let the supreme American leadership confirm it."
He called for new talks with North Korea, "We have already emphasised several times that the squeeze of sanctions has essentially come to an end, and that those resolutions which introduced the sanctions should have included a requirement to renew the political process, a requirement to renew talks. But the Americans completely ignore this requirement and I consider this a big mistake."
Of course he doesn't mention that doing that in the past brought us to this state. 
A little later after reading the article I saw that Trump had sent out the following tweet, "The Chinese Envoy, who just returned from North Korea, seems to have had no impact on Little Rocket Man. Hard to believe his people, and the military, put up with living in  such horrible conditions. Russia and China condemned the launch." (my emphasis)
Is the president living in his own brave little world unconnected with reality? Russia didn't condemn the launch as much as it blamed Trump for provoking "North Korea into stepping up its nuclear missile programme." 
Not only does Russia put the blame on Trump for Kim's missile launch it goes a step further of accusing him of wanting "to find a pretext for destroying North Korea." Unfortunately what Russia is suggesting to the rest of the world about the United States doesn't get much coverage back here. I'm sure few have read Lavrov telling the defense ministry last week in Moscow:  "the West is making clear it does not want to force Russia to change policy but wants to secure regime change." 
As I see it you can't have it both ways. You can't suggest Russia is supporting you when it is doing all it can to undermine you. My real problem though is I don't know if Trump has a clue about this. Is he unaware Russia is blaming him for North Korea's actions and accusing him of trying to overthrow the Putin regime? Or is he knowledgeable about it but must pretend it is otherwise? Either way  spells big trouble for the United States.