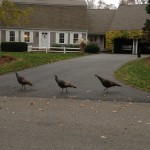 The Jill Kelley saga forced the highly ribboned David Petraeus to resign as head of the CIA. Whether that is a great tragedy or great benefit is being debated. It has also forced a four star Marine Corps General John Allen to have his confirmation to a more important position delayed. It has forced two young women, Jill Kelley and Paula Broadwell, into the public spotlight in a humiliating and possible marriage-destroying manner. It has forced hundreds if not thousands of other people who have communicated with Kelley, Broadwell, Petraeus or Allen to go back through their emails to try to determine what the FBI now has on them. It has made people who comment anonymously to my blog realize they too can be identified by the FBI.
In Jill Kelley's affair we do not know what the FBI knows. All we know is it has gathered and examined  tens of thousands of emails from people who it has no probable cause to believe committed a crime. It is as if the FBI went into the City of Quincy and required every person to give it copies of all the emails they have received as well as all other personal mail. The violation of the Fourth Amendment is astounding.
What is more astonishing and incomprehensible is the silence of the mainstream media  It is either in mortal fear of the FBI, or partnered with the FBI in an information exchange program, or doesn't quite understand the gravity of the invasion of privacy that occurred. Compared to the diligence of the media in the early Seventies when it closely screening government activities, today with the media's parroting of government information it has become the infamous Ministry of Truth for the government. Perhaps now it has no choice since the government uses the criminal arena to limit free speech. Except for the openness of the internet, we are being poorly served as a people. Is there any chance we could see a repeat of the "Pentagon Papers" today?
I was spouting off about this silence at a lunch the other day and one of the people with me, JK, said "haven't you heard of 9/11."  He's right. It's a different world. In this post 9/11 world, no newspaper would dare to have such audacity as back then. In the Wikileaks affair the papers first cleared what they were going to write with the government. The presidential press corps can quote high government officials only if they first present any quote to the official for his approval. We have a Mimeograph Machine Mainstream Media that just lazily reproduces government copy to insure it keeps getting government  information and access and cuts down on costs.
I don't go into politics on this blog. I have my political preferences. I keep them to myself. But I can't see why the headlines in the Jill Kelley saga do not read: President Obama Thanks FBI For His Election.
That's what happened. The FBI covered this affair up until election day. It ensured that none of the news about the information it had illegally gathered by the start of fall was released in such a way as to embarrass the president.
The investigation started in the spring. When the information was gathered a decision had to be made about what to do with it. We can assume in a CYA organization like the FBI this type decision was pushed right up the line to the top man which means either FBI Director Mueller or AG Eric Holder.
Mueller had his ten-year term which was supposed to be the ultimate time any one director could serve extended by Obama for two years giving us a J. Edgar Hoover redux. He is indebted to Obama and may be looking for a further extension. Holder is Obama's close friend. One or both of them decided to sit on the investigation to protect the president. This was a political decision. If the information related to Romney, do you think they would have taken the same action?
Whether they would or not, it shows the FBI is involved in politics. Agent Freddy Humphries thought the bosses were covering up. He leaked the investigation to Majority Leader Eric Cantor on October 27.  Imagine what would have happened if after the first presidential debate on October 3 this information came out.
It would have totally occupied Obama, who had already suffered a blow in that debate, so that he'd have had enormous difficulty recovering. Romney would have had fodder for his next debates to follow up on. The whole picture would have been different.
Whether I'm pleased or unhappy that Obama won is not the point. It is just that decisions by our secret police on withholding information did have a dramatic effect on the presidential race. The FBI is a group of cops with extraordinary powers and no oversight. We see that their decisions can affect our politics. This is something that a democracy can not tolerate.
In my book, Don't Embarrass The Family, I make 15 recommendations for making the FBI into a better organization. None will be followed unless the FBI is forced to change by outside forces.  Right now, there are none willing to take it on.
Least among them is the President. Tomorrow, when he cuts into his turkey, he'll say a silent prayer thanking Holder and Mueller for their wisdom, that is, unless they are sitting at the table with him celebrating the feast. Then he will thank them aloud.