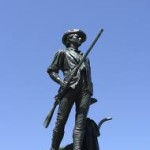 Dzhokhar A. Tsarnaev is in custody. There is much fodder for others to write about over the coming days concerning the actions taken by the Government officials and police during the chase. Was it wise to tell a million or more people they had to "shelter in place," a new term to me? How was Dzhokhar's flight endangering the people of West Roxbury or Newton?  How does this show our refusal to be terrorized when a chase after a very dangerous 19-year-old person puts a city out of action?
The enormous response by the law enforcement to the Marathon Terrorist Attack (MTA) using military-type vehicles and dressed as if in combat was eye-opening. The parade of ten or more heavily armed officers walking up the steps of a two-decker house chasing the residents out was strange to see as was five or more men in black suits with AK-47s leaning against cars bracing themselves as if a horde was coming over the roof tops. How explain the inability as Ernie points out to find the fiend hiding in a boat in the middle of the search area. Whether all this was necessary or whether major mistakes were made I leave to others.
My thoughts turned in different directions. I remembered that quaint document that suggested these government forces, those that shut down the city and those that sent out the armies of police, derive "their just powers from the consent of the governed," I thought how upwards of 90% of Americans want some action taken in light of the terrorist attack that happened in Newtown. Not much, just something like knowing who is selling guns to whom — background checks. Our Government did not respond to the cry of the governed. It preferred to be cowered by a small minority of moneyed people. It told us we know what we can do with our concerns.
I suppose we Americans, would be "disposed to suffer, while evils are sufferable." But assume as seems more and more likely the Government continues to ignore the people and is mostly concerned with only a chosen few and runs itself to benefit those people.  Suppose "a long train of abuses and usurpations, pursuing invariably the same"  desire to ignore the wishes of the people continues.
I've been taught  "it is the Right of the People to alter or to abolish"  our government. That is not only our "right, it is [our] duty, to throw off such Government, and to provide new Guards for their future security."
I learned all the items I've placed in bold above from the Declaration of Independence. I though of those words as I watched the massive display of police power that included few if any of our military. I thought of those words when I considered how easily it was for a governor to tell people they must stay in their homes. I considered them seeing a picture of a normally busy city street all but deserted.
I pondered our inability to do anything if our Government continues to amass great power and to ignore the wishes of the people.  No one, or group of people, can stand up to that power. It is a little frightening to realize if we lose our voice we are powerless to do anything about it. We no longer have on the civilian side men like those who dragged cannons from Fort Ticonderoga to Dorchester Heights.
Which brings me to that other quaint document that reads: "A well regulated militia being necessary to the security of a free state, the right of the people to keep and bear arms shall not be infringed."
That's the Second Amendment. When it was written many of the same people who wrote the Declaration of Independence had a role in composing the language. They believed allowing people to possess arms was necessary for the people to be able to defend against hostile forces both foreign or domestic. They also believed they were necessary if a Tyrant arose, a person or group "unfit to be the ruler of a free people" took power.  They wanted to insure the governed could act against those who governed them.
I've sensed the futility of that belief but witnessing the happenings after the MTA I felt it to the core. We, the people, although in theory still having the right to overthrown our government if it becomes tyrannical, we have in reality no such ability to do this. Nor are we capable of repelling a foreign or domestic enemy.
The Second Amendment is thus a relic of times gone by. Pretending it has a modern-day purpose is like pretending we can protect ourselves against random acts of terror or that there will be an end to the War On Terror.