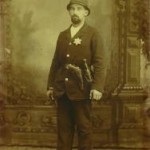 I was thinking how messed up the legal system is when it comes to criminals. As I've suggested before, a lawyer who fell into a coma lasting a century upon coming back to consciousness could pick up his brief case and walk into any court and practice without missing a beat. In no other profession could this happen. The legal system fears change as much as Dracula does garlic. This goes from the cop on the beat up through the judges and all in between.
Speaking of cops, I was wondering about where that term came from. The Oxford English dictionary takes the term back to 1859 when G.W. Matsell said, "Oh! Where will be . . . all the cops and beaks so knowin' A hundred stretches hence?"  A beak by the way is a judge. Dickens wrote in 1838 in Oliver Twist "Why, a beak's a madgst'rate; and when you walk by a beak's order, it's . . . always going up, and nivir coming down agen."  In 1867 it was made a little clearer by F.H. Ludlow who in the Brace of Boys wrote "What's a cop. That's what the boys call a policeman."
But it seems the term "copper" goes back even further to 1846 where in the Justice Hall at Old Bailey someone said: "I have heard the police called coppers before." In 1864 the Manchester Courier said: "As they pass a policeman they will . . . exhibit a copper coin, which is equivalent to calling the officer copper." Add to this is an 1882 statement in the Standard that: "A crowd followed, shouting out . .'Kick the coppers.'  From the latter two references it appears that it was not a term to endear one to a police officer.
Surprisingly to me was that the term copper would be one we should have used during the trial when we were involved in that monumental take no prisoner debate. It was a question that was raised but never answered. To paraphrase a statement made at Old Bailey in 1891, Martorano and Weeks should have said that Whitey "has turned copper on us."  In 1924 S. Scott said in Human Side Crook Life, "Coppering, or turning informant, is the deadly sin among crooks." Unfortunately the jury didn't pass on whether Whitey had turned copper or whether everyone who thought he'd turned copper was wrong.  We learned the existence of a file saying one had turned copper, or in FBI parlance was an informant, is in truth meaningless.
As best I can tell it was copper that was shortened to cops and it lasts until today.  The Merriam-Webster dictionary agrees that "cop" is short for copper.  However it seems the term copper for informant is not frequently used in the U.S. while it is still used to denote a policeman.
I guess whether one should use the term cops is a matter of dispute. I find nothing derogatory about it so I use it. If I thought it reflected a negative attitude I wouldn't, although I'm sure there are some cops who will suggest that it does. One word I actually despise is LEO which is an acronym for law enforcement officer so don't expect to see that in any of my writings. Police officer I'll occasionally say, or trooper when talking about the MA state police, but for convenience sake I'll use cop, or detective where applicable, probably  one of my hangovers from youth although even then as a kid I was not brave enough to call a cop a cop when talking to one.
Then there's the federal agents, or as some would have it special agents. I've never been able to figure out the difference between those that are special and those that are just plain old agents. I went to my fount of all knowledge, Wikipedia, to find out. Here's what it said: "In general, non-1811 personnel who have arrest authority are considered "Agents" while Criminal Investigators who carry a badge, gun, credentials, and have arrest authority are considered "Special Agents". All other 1800 personnel who conduct investigations (background or otherwise) are "Investigators", "Background Investigators", or "Compliance Officers", no matter what their administrative title may be." (1811 refers to the federal general schedule).
That is just some more gobbledygook as far I am concerned. For convenience sake, I guess its easiest for me to call them all cops and not make a federal case out of it.