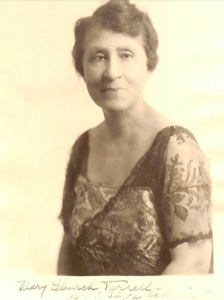 Mary Church Terrell spoke about what it was like to be colored in Washington, D.C. in 1906. It is considered among the top 100 political speeches of the 20th century. Here are a few excerpts from it:
"As a colored woman I might enter Washington any night, a stranger in a strange land, and walk miles without finding a place to lay my head. Unless I happened to know colored people who live here or ran across a chance acquaintance who could recommend a colored boarding house to me, I should be obliged to spend the entire night wandering about. Indians, Chinamen [sic], Filipinos, Japanese and representatives of any other dark race can find hotel accommodations, if they can pay for them. The colored man alone is thrust out of the hotels of the national capital like a leper.
As a colored woman I may walk from the Capitol to the White House, ravenously hungry and abundantly supplied with money with which to purchase a meal, without finding a single restaurant in which I would be permitted to take a morsel of food, if it was patronized by white people, unless I were willing to sit behind a screen. As a colored woman I cannot visit the tomb of the Father of this country, which owes its very existence to the love of freedom in the human heart and which stands for equal opportunity to all, without being forced to sit in the Jim Crow section of an electric car which starts from the very heart of the city–midway between the Capitol and the White House. If I refuse thus to be humiliated, I am cast into jail and forced to pay a fine for violating the Virginia laws. . . .
With the exception of the Catholic University, there is not a single white college in the national capital to which colored people are admitted, no matter how great their ability, how lofty their ambition, how unexceptionable their character or how great their thirst for knowledge may be.
A few years ago the Columbian Law School [Merged into George Washington Law School] admitted colored students, but in deference to the Southern white students the authorities have decided to exclude them altogether. . . .
Not long ago one of my little daughter's bosom friends figured in one of the most pathetic instances of which I have ever heard. A gentleman who is very fond of children promised to take six little girls in his neighborhood to a matinee. It happened that he himself and five of his little friends were so fair that they easily passed muster, as they stood in judgment before the ticket seller and the ticket taker. Three of the little girls were sisters, two of whom were very fair and the other a bit brown. Just as this little girl, who happened to be last in the procession, went by the ticket taker, that argus eyed sophisticated gentleman detected something which caused a deep, dark frown to mantle his brow and he did not allow her to pass. "I guess you have made a mistake," he called to the host of this theater party. "Those little girls," pointing to the fair ones, "may be admitted, but this one," designating the brown one, "can't." But the colored man was quite equal to the emergency. Fairly frothing at the mouth with anger, he asked the ticket taker what he meant, what he was trying to insinuate about that particular little girl. "Do you mean to tell me," he shouted in rage, "that I must go clear to the Philippine Islands to bring this child to the United States and then I can't take her to the theater in the National Capital?" The little ruse succeeded brilliantly, as he knew it would. "Beg your pardon," said the ticket taker, "don't know what I was thinking about. Of course she can go in.
What was the matter with me this afternoon? mother," asked the little brown girl innocently, when she mentioned the affair at home. "Why did the man at the theater let my two sisters and the other girls in and try to keep me out?" In relating this incident, the child's mother told me her little girl's question, which showed such blissful ignorance of the depressing, cruel conditions which confronted her, completely unnerved her for a time. . . . 
It is impossible for any white person in the United States, no matter how sympathetic and broad, to realize what life would mean to him if his incentive to effort were suddenly snatched away. To the lack of incentive to effort, which is the awful shadow under which we live, may be traced the wreck and ruin of scores of colored youth. And surely nowhere in the world do oppression and persecution based solely on the color of the skin appear more hateful and hideous than in the capital of the United States, because the chasm between the principles upon which this Government was founded, in which it still professes to believe, and those which are daily practiced under the protection of the flag, yawns so wide and deep."