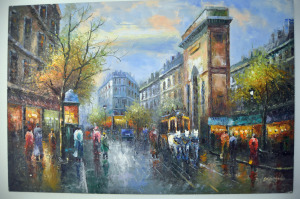 When I wrote about being an Irish-Huhnunah some suggested I drop the Irish and refer to myself simply as a Huhnunah when that becomes the new name of our country or as an American until it is. That got me thinking that I actually never refer to myself as anything else than American. All my forebears came from Ireland but I cannot think of any time I actually said I was Irish-American. I was very happy being just plain old vanilla American.
I recalled one day years ago when a Chinese woman from Quincy was talking to me. She said something to the effect "you Americans do it differently." I reminded her that she too was an American. That I did that made me reflect that in dealing with others it did not occur to me that there were different types of Americans.
Although I have to admit my wife, who is from Ukraine and came here as a young girl and became a nurse and as American as any other young woman I knew, talks about Americans doing this or that which is usually said in a critical manner. Things were always better from the old country. She's never happy when I suggest to her she too is American. So like with the young woman from China who also was a first generation arrival to our land I should accept that in them lingers some attachment to the native land. In their cases I suppose it is proper to be a hyphenated American. But other than that I suggest it is time to throw out the hyphen.
Those of us born here should consider ourselves as simply Americans. Yet the trend seems to be in the opposite direction which is not good. The more the hyphen is used then the more do we look at others as belonging to different groups, Rather than working together for the common good we are working against each other.
Writing this I am reminded of being in contact with a young woman who was related to me. She was travelling through Morocco. I was speaking to her at that time and she was telling me of the wonderful time she was having going to the marketplaces and riding on camels. She went on to note that there were a lot of African-Americans living there.
In her mind African-American was synonymous with the word black. In the minds of most Americans that would be the case. To be accurate the term African-American must of necessity include many whites as well as many Arabs who do not consider themselves black. But insofar as the term means black then the young woman was correct in identifying black Africans as African-Americans even though they have no connection to anything American.
That is the problem with hyphens in a country like America. A hyphen joins, modifies and adds but overall differentiates. The less we differentiate one from another the better off we will be as a country.
The more we look for racism or any other "ism" the easier it will be to find it. The worst thing that results from such a search when done from those intent on finding it is when they don't find they infer that it exists precisely because they cannot find it. Thus we are told by would be presidents that despite what we see with our eyes "Race remains a significant challenge in our country. Unfortunately, race still determines too much. It often determines where people live, it determines what kind of education in their public schools they can get, and yes it determines how they're treated in the criminal justice system, . . ."
It is time we get beyond that. Lies like that cause us to go backwards. The true answer on race in this country is that things have never been better. What demonstrates it is that a group like Black Lives Matter can exist and they are tolerated even though the facts behind their message contradict reality. While some bemoan the racial conditions in our country the other day Sixty Minutes had a program discussing the nuclear readiness of the United States. Who do you think our nation has entrusted in our military with the two most important posts in the nation when it comes the matters of cyber and nuclear attacks. You guessed it, two black men.
That is the America I see, One where there are no doors closed to any person. One in which we get beyond color and looking for things to differentiate us rather than things that bring us together. One in which a person is judged by his or her character and work ethic and intelligence not one where mediocrity is put on the same level as excellence.
That is why the candidate who rues the racial problem and alleges there is an "implicit bias"in America is adding to our problem as a people. Like the poor we will always have racists among us. What we must do as a nation is to accept that, understand how few they are,  and move forward to improve the country for all. Rather than concentrate on the few bigots we must point to the huge majority of us who want to live in harmony with others who are fellow Americans.