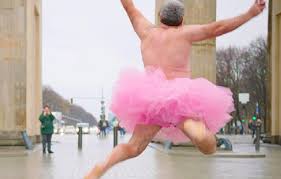 I sort of chuckled when I read about a new law in Massachusetts that deals with gender identification. I pictured myself as an employer waiting for a person to come in and interview for a job. I'm a conscientious law-abiding guy who wants to stay on the good side of the law. I'm reading the resume of George Goodfellow. He actually has the education and experience that I am looking for. My secretary buzzes me and says, "your scheduled appointment Mr.  Goodfellow is here."
My door opens and in comes a bald, fat guy wearing a pink tutu and pair of ballet slippers. I try not to do a double take. I stand up and indicate with my hand a chair opposite my desk and say,  "Have a seat, please." I'm a little confused. I was going to say have a seat Mr. Goodfellow but I did not know if he wanted to be called mister.
He sits down. I say, "well Goodfellow, thanks for coming in."  He says, "call me George." 
I really want to ask him why he is dressed up like that. I'd like to know if he dresses up like that all the time. I have to sit there an pretend that everything is normal and figure how to go through an interview with this guy which is the last thing in the world I want to do. He has written all over him the words "liability" and "legal suit."  That is why I cannot comment on his dress. I also know if I bring him down the corridor to meet other members of the group that I planned to help with the interview someone is going to say something that may point to his incongruous manner of dress.
The law states according to the Massachusetts Commission Against Discrimination (MCAD) that it "is unlawful discriminatory practice for an employer, or an employee or agent thereof, to discriminate against any employee or applicant for employment based upon that individual's gender identity with regard to recruitment, hiring, firing, discipline, promotion, wages, job assignments, training, benefits, and other terms and conditions of employment. Discrimination may take the form of unwelcome verbal or physical conduct, including but not limited to, derogatory comments, jokes, drawings or photographs, touching or gestures." (my emphasis)
The MCAD points out: "The law also protects persons whose gender identity is consistent with their assigned sex at birth, but who do not adopt or express traditional gender roles, stereotypes or cultural norms. Courts and the MCAD recognized that discrimination on the basis of gender stereotypes is unlawful bias prior to the legislative changes in Massachusetts. For example, discrimination against a persondesignated as female at birth and who identifies as a woman but who does not act, dress, or groom herself  in a manner consistent with feminine stereotypes, is unlawful discrimination based on sex and gender identity. (my emphasis)
Here before me is George born as a man who identifies himself as a man but is not acting or dressing in a manner consistent with masculine stereotypes. How can it be that I am in that position. Why can't I say to him "look George, if that is your name, coming in here dressed like a woman is unacceptable. I just have no time or position for you. Have a good day and don't trip in those heels walking out the door."
I suppose George has found a good way to make a living in Massachusetts without having to work. Suppose he showed up at the interview dressed in a traditional man's three-piece suit and the interview went well and I offered him the job. I tell him to come in and start on Monday and I'll take him around the office and introduce him to the others. He then shows up as he did above dressed as a woman. I would obviously have to let him go or some of the wise guys working for me would have a few choice comments to make. Either way George could go out and sue me.
It gets worse. A guy can go into the women's bathroom or locker room as he sees fit in Massachusetts. Women have lost all their privacy. MCAD notes: "The statutory definition of gender identity does not require the individual to have gender affirming surgery or intend to undergo surgery, nor does it require evidence of past medical care or treatment. Gender identity is distinguished from sexual orientation. Gender identity refers to a person's internal sense of their own gender and its expression."  (my emphasis)
So if some days my internal sense is that of a woman and another day that of a man everyone has to put up with it. No questions asked. What is next. What if I don't feel like either a male or female? If I feel like neither which in my Latin classes was called the neuter gender which is protected from discrimination.
As I understand it a couch potato is part of the neuters gender. Now I'm going to dress as a couch potato. I expect my rights to do so will be respected at work today.
It is stuff like this that has made many people run from the Democratic party and many others vote for Donald Trump.