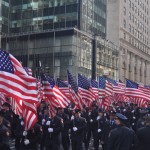 It's here. The St. Patrick's Day parade in South Boston. Along with it has come the dispute that began 22 years ago.
You know what I'm talking about. Or do you?
It is written about in today's Boston Globe by Yvonne Abraham of the Boston Globe. She wrote that she asked Boston's new mayor about gays marching openly in the St. Patrick's Day Parade. He responded: "It's going to happen in my first term." Note that she was cute in phrasing the question. She asked him about gays marching openly, not about gays marching. There is no question that gays can march in the parade. The issue is what will they be able to say in their signage when they march. 
Abraham tells us about MassEquality. She writes: " Every year, MassEquality asks to march and parade sponsors exercise their constitutional right to say no. . . . But this year, after MassEquality's usual rejection,"  the major tried to broker a compromise. It seems typical with some Globe writers that they leave out important facts. Abraham fails to tell us that a compromise was reached. MassEquality participation was accepted. It could march in the parade. It just couldn't march the way it wanted with its members carrying certain signage.
Abraham quotes MassEquality's executive director who said that this is one of the  "last vestiges of really hostile discrimination."
As I noted, the issue isn't about gays marching. Another article in the Boston Globe by Andrew Ryan noted that a South Boston Lower End diversity group under the leadership of gays will have a float in the parade. They will wear scarves to show their group affiliation. In their application they stated that "this small token of wearing a unique scarf would allow us to move toward inclusion."
Gays have always marched in the South Boston parade but have never identified themselves as such. Lead parade organizer Philip J. Wuschke Jr. (What part of Ireland is he from?) said: "Gay people march in this all the time. Every year. This isn't the first time. "We don't ban gay people. We ban groups that are trying to make a statement." 
Yvonne Abraham represents the traditional Globe attitude toward the parade. It's time to tell the parade organizers what to do. Andrew Ryan tells us of another approach where gays who live in South Boston are participating in the parade wearing discreet indicia of their sexual preference. Ryan quoted one of the latter group as having said: "There are other ways to do things, even if they are not as public, not as volatile, and not as contentious."
The Globe's approach of ridiculing the parade organizers as bigots or telling half the story; Sam Adams and Heineken's pulling back their support;  the major's, Senator Lynch's and others attempts to force the parade organizers to let gays march openly will certainly founder. This is because they don't seem to realized that some people cannot have something forced down their throats.
The history of this 22-year-old dispute must be taken into account when considering it. History is always important. Think of the Orange Walk and how long that lasts. The background of this parade is spelled out in a book: "From Trial Court to the United States Supreme Court: Anatomy of a Free Speech Case: The Incredible Inside Story Behind the Theft of the St. Patrick's Day Parade." It tells the remarkable story of how all the lower court judges in Massachusetts and 6 out of 7 justices on the Supreme Judicial Court ordered the organizers of the parade to let gays march in clear violation of their Constitutional rights. Year after year the veterans who ran the parade fought back. Eventually by a 9 – 0 vote, the United States Supreme Court upheld the Constitutional right of the veterans to control the message of their parade.
The scars left by that many year battle that lasted longer than WWII are still there. The people who are running the parade, veterans, are not the type who like to get pushed around. After having fought so long and hard to protect their rights that they had put on the uniform of the country to preserve they are not going to quickly relinquish this hard-fought victory. When outsiders want to force something on them, they will rebel. It is so much part of their nature, one you would understand if you grew up in South Boston and would have learned the first instinct of many is to fight back when someone tries to push you around especially if they tried before and failed.
Calling them bigots, suggesting they are engaged in "hostile discrimination" as the executive director of MassEquality did, or telling half a story to hold them in disrepute will not change their minds. What will, and what we see happening, is the slow change that is coming about by those who work with them and don't fight them. It's the old "you get more with honey than vinegar" approach.
It's time we learn things change slowly. It's time we learned that it takes time to heal wounds from past battles. Gays are marching in the St. Patrick's Day parade in South Boston; soon, they will be marching openly. It may happen in the mayor's first term if it isn't forced; or it may take longer. But some day it will happen but it won't be through intimidation.
While we wait for that day, I hope everyone who goes to the parade has a top of the morning.