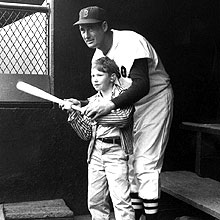 Both John Henry of the Red Sox and Donald Trump of the presidency are cut from the same cloth. They are, we are told, business men. Some people like business men. Others look at them with a more jaundiced eye. But they do have a common characteristic: they like to hate people and they like to make money. One thing they really hate is the idea that they may be compared unfavorably to their predecessors.
To anyone paying a little attention it is obvious that Trump is obsessed with wiping anything that puts Obama in a favorable light. He continually denigrates the prior president and extols his own self. I never understood why he could not let his work stand on its own merits without having to tear down prior presidents.
We see the same thing playing out with John Henry. In December 2001 he purchased the Red Sox from the Yawkey Foundation. Like Trump he seems intent on doing everything in their power to eradicate the good the prior person did and to malign the person's name by falsifying facts. Henry says he is bothered by the "racist practices of the former owner."  What were they?  He notes he was the last one to hire a black player. That hardly meets the criteria "practices." He is reported as saying Yawkey did not hire a black until "after it had become common practice" in MLB.   By 1959 if was far from a common practice.
In 1950 blacks made up 1.7% of players in Major League Baseball (MLB) according to this chart here.  In 1955 blacks on team rosters totaled 5.2% and in 1958 they were 7.4%. It wasn't until 1968 that their percentage rose above 15%; it basically stayed there until 1997 rising as high as 18.40 in 1981.Since 2012 it has been 7.2% or under, less than at the time the Red Sox hired its first black in 1959. In 2012 Marlon Byrd was the only black player on either of Chicago's two teams.
Are we to think because of the low percentage of blacks playing MLB that the owners like Henry are racists? How do you explain a Chicago MLB team with no blacks? In baseball there are a multitude of reasons why things are done. Very often owners do not take any steps without input from their general managers, managers and coaches. Have you heard anyone say that the Chicago White Sox were racists because they had no black players or MLB is racist because of the declining number of black players?
As for Henry he is a business man and his interest is in selling a product. In this case he owns the Red Sox. Henry seeks to get the highest price possible for consumers of his product. Fenway Park is now the first or second most expensive ball park visit in MLB. Who can afford to go except those with connections to the corporations that buy the season tickets? A 2016 Fortune article estimated the cost of going to a Red Sox game for two people was $157.50. The next highest cost going to a MLB game was $116.06.
Why Henry finds any mention of Yawkey offensive is not because of the alleged racisim but because Yawkey was not a business man. He lost money owning the Red Sox during some years because he wanted to keep a visit to his park affordable for the common man. He made the Red Sox into what they are today.
The year he purchased the team its attendance was 268,000; the next year it leaped to 610,000. It steadily increased hitting about a million and a half between 1946 to 1949. Thereafter it was around a million or less up to the magical year of 1967 with the Impossible Dream team. During all that time bleacher seats were open and inexpensive. Yawkey was not a gouger trying to bleed people of their last cents. Kids could afford to go to the bleachers and watch a game.
In Yawkey's time going to the Red Sox game was a treat. It wasn't expensive.  It wasn't inconvenient. The Red Sox were not a mechanism for making Yawkey rich. Henry wants us to forget that.