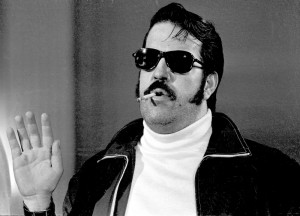 Pat Nee is alleged to have been involved in several murders. He has never been charged with any. He self-described himself as a partner of Whitey Bulger.
A member of the Mullen Gang it is alleged he was one of the group that gunned down Billy O'Sullivan and Donald Killeen of the rival Killeen Gang. Born in Ireland he was highly involved in supporting the Irish terrorists. He arranged for a shipment of arms to be transported by sea to them by a small crew of seamen including the master mechanic John McIntyre. That shipment was intercepted by the police. Investigations followed and McIntyre was giving evidence to Quincy Detective Richard Bergeron and others.
Nee invited John McIntyre to a house in Southie and drove him there. When they entered we are told McIntyre was immediately bound and tortured by Whitey. After several hours of questioning he was murdered.
McIntyre never dealt with Whitey relative to the shipment. He could not implicate him in it. He could implicate Nee. Nee would say he left the house after delivering him but came back in time to help bury him in its basement.
Some have suggested Nee was never charged because he was a Top Echelon informant (TEI) for the FBI. Like Whitey Bulger and Stevie Flemmi, he was given protection by the FBI in exchange for helping them out. It is said Nee felt so protected that recently he was on a reality TV show bragging how he controlled the gaming rackets in South Boston. Nothing happened to him.
It is said Nee has in his wallet a TEI pass from the FBI. That is the same one Whitey and Stevie Flemmi carried. It means he can engage in criminal activity and the FBI will protect him and keep him safe.
Whether he is a TEI and his criminal activities are being protected by the FBI is something that we cannot find out. The FBI will not disclose the identities of those TEIs they are protecting. We only know of Whitey and Stevie and a handful of others because Judge Mark Wolf of the Boston federal district court forced the FBI's hand.
Well, that's true in part. I should say we officially know that is the case because of Wolf. We may have learned it had we been more alert when FBI agents John Morris and Robert Fitzpatrick betrayed their job and identified to reporters for the Boston Globe that Whitey was one. We probably missed it because we did not know of the FBI's TEI program until Judge Wolf blew the lid off of it. It was supposed to be a secret. No one was to know that FBI agents had become partners with vile and vicious criminals for the purpose of getting information against other criminals especially those connected with the Mafia.
I bring up Nee because we don't know how many guys like Nee are being protected by the FBI nor do we know how many people they have murdered. The weird thing about the TEI program is that we only hear about one side of it. I'll get more into its history as I go along. It was established by J. Edgar Hoover after he decided to target the Mafia. Again that's another story for another day. Being a secret program its origins are somewhat obscure.
It came about during the time the FBI was doing illegal black bag jobs and planting electronic bugs into whatever location it wanted without a warrant. The FBI had bugs sitting in the offices of many of the Mafia leaders for month after month. Its agents were scooping in all types of information and tracking most of the movements of the mob. When LBJ put a halt to it after the FBI almost caught one of his close associates doing something he shouldn't have been doing, the FBI relied more heavily on TEI's assuming they could give them what the now silent bugs had done in the past.
The TEI program required FBI agents to seek out high-ranking criminals with access to other high-ranking criminals. They were to convince these top criminals to come and work with the FBI agents to provide information against their criminal associates. What the program left somewhat vague was what the FBI would give the top criminal in exchange for the information he would provide.
This was not just a program for Boston. It was a nationwide program. In fact, Boston was not one of the first offices where it was instituted. So throughout the nation FBI agents were joining hands with the most vicious of criminals. They had convinced them to betray their buddies. They had to have something good to offer them in exchange for their information.
The Boston office has been held up as a rogue office for its actions with Whitey and Stevie. The reasons for that are several but the main one is that Judge Wolf required it to open its files concerning them. He did not require it to open the files against all their TEIs nor has any other judge in the country required such a thing from any other office. It seems probable that there are thousands of Whiteys who have entered the TEI program and are receiving whatever it is the FBI gives in exchange for the ratting out their friends.
Ask yourself, what is it these top criminals are getting in exchange for their information. No one wants to ask that question. Until you figure that out, you will never understand the Whitey saga.