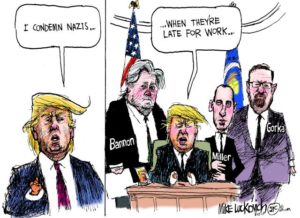 "Heil" some shouted. Many others gave the Nazi straight arm salute. 'Hark, Hark, the dogs do bark. The haters are coming to town."
Like Senator Orrin Hatch I had a relative, uncle and Godfather, killed in uniform during the war: James Rogers. Other uncles served in uniform to fight the Nazis with their message of hate. I'm told one of my uncles wrote , "onward to Moscow."  Did anyone in Trump's family ever serve? Perhaps that explains his fondness for the Nazis and Putin.
You know that Trump knows how to fire out tweets within minutes at people he doesn't like. A CEO tweets a resignation from one of his boards and within an hour he's tweeting back saying the CEO's pharmacy company is ripping off  people. I'm sure all will agree he's quick on the tweeter.
Except when it came to the Nazis. I use the generic term Nazis to cover all those like the KKK, white supremacist group, and other so-called alt-right who gathered in Charlottesville Friday August 11, 2017, and the Saturday next, for the ostensible purpose of protesting the removal of the statue of General Robert E. Lee.
Thirty-two-year-old Heather Heyer a 2003 graduate from high school was killed by one of the Nazis. Lots of video show the crash in which she lost her life. I have to admit I initially thought there was something strange about it. The alleged driver of the car James Alex Fields Jr., age 20, driving his Silver Dodge Challenger drove at a high rate of speed down Fourth Street at about 1:45 pm and plowed into the rear of a stopped sedan caving in the trunk area and pushing it into a minivan in front of it. My initial reaction was "that's strange he drove by people on the sidewalk and into the rear of a car. If his intent was to hurt people why didn't he drive into them rather than a car like all other terrorists seem to do?"
The people who were hurt in the crash were those who came to protest against the Nazis. Heather too was there for that purpose. Within hours it was clear that Fields was a Nazi sympathizer when his face book postings were uncovered. It was also clear that Heather had died.
One video shows a woman being thrown over the top of the Sedan at the moment of impact. Was that Heather? Most likely. Whoever it was seeing it you had the feeling that if it was severe enough to propel her over a car she was unlikely to survive.
By early Saturday evening it was clear that one of the Nazis had murdered a woman protesting their message of hate. That was the time for Trump to condemn the Nazis for spewing their hate and for lamenting the death of Heather. He should have stood in an impromptu press conference and expressed his disgust at the Nazis and sympathy for Heather. It could have been done in a minute. It did not have to be scripted. It could even have been tweeted.
He didn't do it then. Nor did he do it on Sunday. On Monday he finally did. But it was strange the way he did. He read in a deadpan manner from a teleprompter. When asked if he would answer questions he walked away suggesting he wouldn't because of the fake media.
Nothing I said above was fake. He did hesitate in condemning the message of hate by the Nazis. If I said he reluctantly did so on Monday you might think that was fake. You decide. He tweeted after making the statement: ""Made additional remarks on Charlottesville and realized once again that the #fake news Media will never be satisfied…truly bad people!"
 Apparently he was content to not condemn the Nazis but did so to satisfy the news media. It wasn't that he thought it appropriate to condemn those who advocate white supremacy; he did so reluctantly being almost forced to do it.
Viewing videos I figured out why the Dodge passed people on the sidewalk and rammed into the car. He could not see the Sedan as he sped down the street. It was hidden by a crowd of people. He planned to roar through that crowd hoping to run over hundreds. He never saw the Sedan until he was upon it. That it was there saved perhaps fifty to a hundred lives.
That's what hate can do. It can blind one to the consequences of his actions so that he acts in a fury at others.  That's why it must be condemned quickly, openly and voluntarily. Too bad we have a president who doesn't  understand that basic principle of life.