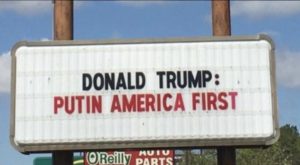 You have heard of or read the article by Anonymous in the New York Times. Trump tweeted about it: "Does the so-called "Senior Administration Official" really exist, or is it just the Failing New York Times with another phony source? If the GUTLESS anonymous person does indeed exist, the Times must, for National Security purposes, turn him/her over to government at once!"  
Trump has also referred to the op-ed as being Treason. On Air Force One on Friday September 7 Trump said: "Jeff should be investigating who the author of that piece was, because I really believe it's national security." Many have scoffed at the idea that national security is involved.
We know that Trump tosses the term "national security" around like people throw confetti at weddings. He has used it to justify imposing tariffs on various products based on the idea, as Commerce Secretary Wilbur Ross has said, "Economic security is military security." He uses "national security"  to pretend Canada is a threat to us.
Of course,  as we know Trump and Jeff are not on the best of terms. It will remain to be seen what Sessions will do. Will he try to get back into Trump's good graces by doing this; or will he ignore the suggestion as so many people in his administration seem to do if we believe what is set forth by Anonymous.
(An aside, I tend to think Sessions is Anonymous. He loves being AG. Trump threatens to take that away from him. I recall Deep Throat. He was a guy who had a grudge against Nixon because the FBI director's job wasn't given to him. Motive and opportunity the same.)
The op-ed by Anonymous is here. He or she is in a top position in the White House to have knowledge of this information and to be vetted by the NY Times to allow that person to write such a piece. Although Trump questioned the existence of the person there is little doubt if any that the person exists. He or she makes some very serious charges about what is going on  in the Trump White House. The question then is has Anonymous done something that justifies the attorney general investigating who he or she is?
Here are some of the things Anonymous said:
"many of the senior officials in his own administration are working diligently from within to frustrate parts of his agenda and his worst inclinations. I would know. I am one of them;"
"we believe our first duty is to this country, and the president continues to act in a manner that is detrimental to the health of our republic."
"many Trump appointees have vowed to do what we can to preserve our democratic institutions while thwarting Mr. Trump's more misguided impulses until he is out of office."
"The root of the problem is the president's amorality."
" his impulsiveness results in half-baked, ill-informed and occasionally reckless decisions that have to be walked back."
"they have gone to great lengths to keep bad decisions contained to the West Wing, though they are clearly not always successful."
"Americans should know that there are adults in the room. We fully recognize what is happening. And we are trying to do what's right even when Donald Trump won't."
Anonymous said that "The result is a two-track presidency."
That is not true. The result is that we have two presidents. We have Trump who was elected by the people; we have Anonymous and others, perhaps, who have taken it upon themselves to act as if they were elected to the presidency. Nothing can be more damaging to our national security than a small unelected and unaccountable group of people deciding what they believe is best for America. In a sense we have had a quiet, non-violent coup by one or more who have seized power from the president.
Like the boy who cried wolf, Trump has used the term national security threat so often it rings hollow now when it comes from his mouth. This time though, it should be paid attention to and acted upon. We cannot have a secret cabal running part of our government. That truly affects our national security.
I am no Trump fan as many know. Unfortunately, he holds the office of the president. That he does if he is being undermined by people working for him through their actions our security as a nation is at stake. If Trump's actions are so out-of-course that they must be hidden, ignored or changed, as Anonymous states, then we must know about them.
He is the president. He is the one who must make the decisions and the orders. The attorney general must bring the full force of his office into play so that the existence of those members of this quiet coup is discovered and they are extirpated from their positions. The nation and our security is at risk.