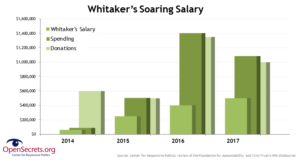 How bad does it get when your former campaign manager is convicted of a ton of crimes, admits to others, agrees to cooperate, and then lies to the people he is cooperating with? Now what is it Paul Manafort has been told that has made him decide to lie about his prior activities with people he was involved in?
Obviously, Manafort is not the type of guy who is going to risk going to prison if he can avoid it. You do recall that after he was charged and put on home confinement with a leg bracelet the prosecutors had that status revoked because he was trying to reach witnesses against him and attempting to influence their testimony. The prosecutors produced sufficient evidence for the court to lock him up to protect the integrity of the justice system. In prison the judge believed he could not reach out and intimidate or try to convince people it would be in their interest not to tell the truth.
Manafort and Trump go back a long time. They have a good connection through one guy whose name is Putin. Manafort as you may recall was working on behalf of Putin when he was working with former Ukrainian President Victor Yanukovich who wanted to bring Ukraine under Russia (Putin's) control which resulted in the Euromaiden uprising by the Ukrainian people who chased Yanukovich back to his Russian protector where he still remains. You might also recall that Yanukovich was funneling millions of dollars of the Ukrainian people's' funds to Manafort.
After he failed in his attempt to deprive the Ukrainian people of their freedom, by the way he was not the only American involved in doing this nor was it just Republican party types involvement but included Democrats with high influence, the next thing we know is he's working for Trump. How is it so many prominent Americas sell out others for a buck; and how is it that Manafort ended up running Trump's campaign.
It didn't take us long to smell the foul trail that led from Putin to Trump. Manafort was in charge of the Trump campaign because Putin sought that. How best to ensure Trump remained under his control than to have Manafort as the manager of the campaign.  He didn't last that long because the American media was not as dumb as Putin or Trump thought it to be. Having smelled it out it forced him out of the campaign manager spot but he stayed in close touch with the campaign through his underling Rick Gates, another convicted criminal.
Is it any wonder Trump attacks the free press? If only it would take commands from him things like this would not have happened. Isn't it best the people not know what is really happening and only believe the big lies Trump spells out.
Manafort agreed to 'fess up to his crimes but figured he could con the prosecutors like he had conned people throughout his life. He wasn't about to start on a twenty year plus journey through the Bureau of Prison system so by feigning a desire to cooperate he had brought his maximum time down to less than five years. Unfortunately, he didn't know that the prosecutors knew a lot more about his activities than he thought and they were looking to confirm them through his words. He chose instead to lie. He must have known this would put him back on that twenty year trip if things were on the level. But he also must know that he has a way to avoid that trip which leaves us with the question about how is he going to do that.
Now I don't want to hear Manafort is not a criminal or the Special Counsel should not have investigated him. A jury has found he is a criminal and he has also admitted to other criminal acts. The Special Counsel was found to be acting pursuant to his mandate in ferreting out these crimes by more than one judge. So lets please deal with the reality that we have a criminal facing over 20 years in prison who expects by lying he won't have to serve that time.
He has two ways out. Both ways will be through the auspices of Trump. The first will be a pardon. Trump has already told us he believes Manafort is a good guy. We also know he believes Muhammed bin Salman and Kim Jung Un are good guys and those EU leaders are bad. So a pardon is not out of the question but if Trump can do something through an intermediary he'd prefer to do that.
The second and most likely way will be through his puppet Attorney General Matthew Whitaker.  He may step into the case and cause it to be dismissed or require Special Counsel to recommend some type of street sentence. At this point we do not know how subservient he will be to the wishes of Trump. We do know he has been paid well by secret Republican operatives to be a mouthpiece for them. So there may be little downside for Whitaker to take a dive for Trump.  And, Trump will tell us he knows nothing about it.
It won't be a mystery for long because Manafort will not do any heavy time having already having had a taste of it.