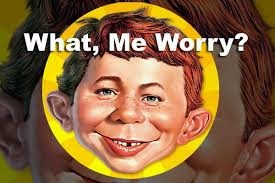 A local Boston columnists who makes his money by belittling Hispanics and government workers to his white red-neck audience spends time at the Trump resort in Mar a Largo trying to get a pat on the head from Trump. The irony of the whole matter is this columnist lives large and attacks those who live like he does while his audience lives the lives of begrudging grumblers who believe he is one of them.
It so happened he was there at the time Trump ordered the U.S. military to kill the Iranian General Soleimani. When he first saw Trump about "9 o'clock," on "a warm idyllic evening in south Florida" he described him as "cool, calm and collected.."
Trump called him over but the columnist said he mentioned that just "to show how uneventful the evening seemed . . . ."  He went on to say: "If the president was anxious or nervous about the strike he'd just ordered, he was surely hiding it well."
This was written as a paean to Trump with the implication that  after having ordered this killing we should admire him because in effect he seemed to not have the least concern about it.
Trump proceeded to have his dinner in the company of the Republican minority leader of the House apparently oblivious of what he had just done. I can only picture one other person having this detached disposition after such a significant action and that is Alfred E. Newman  with his "What Me Worry?" approach to life.
As you all know Ecclesiastes 3 teaches us that there is a season.for everything:   For instance: "A time to kill, and a time to heal. A time to destroy, and a time to build. A time to weep, and a time to laugh. A time to mourn, and a time to dance. A time of war, and a time of peace."
After ordering the killing of a man whose death might lead to the deaths of many others it would seem to be a time for deep reflection and not a the time for business as usual. Would it be too much to expect of Trump to understand the enormity of his action and not proceed as if nothing eventful had happened.
Trump's detachment from the effects of his decision and his lack of empathy is close to astounding. The morning after we are told  of his nonchalance he went out for his 18-hole round of golf. Meanwhile the world trembles believing this decision is a prelude to a war with Iran.
While he was playing golf there were 3,500 American troops at Fort Bragg, North Carolina, whose lives were far from uneventful. They had been ordered to deploy to Iraq in 18 hours Their lives were put in an uproar; 18-hours to say goodbye to wives, husbands and children and arrange for their safety and security. They went off without a word of thanks or acknowledgement from Trump who was too busy on the golf course.
We are told we are now  safer because Trump ordered General Soleimani's killing while at the same time we are sending more troops to Iraq and telling Americans in Iraq to flee from that country. Sadly, we have Vice President Pence justifying Trump's killing of Soleimani by asserting something no one ever heard of before that he was responsible for transporting "9 of 11" terrorists who attacked us on 9/11 through Iraq.
Lies aside, Trump's apparent inability to perceive the significance of his action and to go on as if nothing eventful occurred is frightening. A normal president would had returned to the White House and have spoken to the nation about his actions. Trump goes on fiddling.
A couple of days ago I wrote about his enormous gamble. The ball is now in Iran's hands with Trump going all in that hoping he can scare them out of responding. Apparently he sees his bet may have been a bad one.
He has now upped the ante. He tweeted advising  the leaders of Iran what he plans if it "strikes any Americans, or American assets, we have….targeted 52 Iranian sites (representing the 52 American hostages taken by Iran many years ago), some at a very high level & important to Iran & the Iranian culture, and those targets, and Iran itself, WILL BE HIT VERY FAST AND VERY HARD. The USA wants no more threats!"
He has now committed us to an all out war that will cause thousands of civilian deaths if Iran responds in any manner to his thoughtless action. Was the killing of Soleimani worth it? One has to wonder whether he will conduct the war while playing on the golf course. That's something Alfred E. Neuman would do. One also has to wonder at the local columnist who didn't realize how out-of-touch he made Trump look.