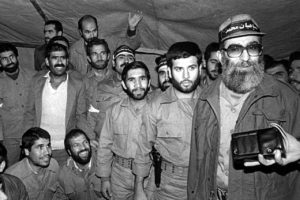 Happy New Year as we start off with an unprecedented assassination of a  foreign national leader from a country who we are not at war with.  The rationale being that General Soleimani was a bad person,  to quote Trump, "Soleimani was responsible for numerous deaths, including of thousands of Americans, . . ."  He then added" "He was directly and indirectly responsible for the death of millions of people, including the recent large number …. of PROTESTERS killed in Iran itself."
Plus, as put out by the Defense Department, "General Soleimani was actively developing plans to attack American diplomats and service members in Iraq and throughout the region."
Logic would suggest that if true General Soleimani had been doing this for a long time. He would probably have been involved as far back as 2003  when Bush invaded Iraq. The question then is why after 17 years it was now time to assassinate him?
It is not that Trump just gained his office and learned this. He sat on it for three years himself without doing anything. Then why did he do it now since what Soleimani was doing was nothing different from he had been doing throughout those three years.
Some suggest it has something to do with changing the discussion from the impeachment trial. Others that because we have started a war with Iran we cannot possibly have the president distracted by the trial during this time so it must be postponed. That certainly is a consideration given the timing.
I suggest to understand this you have to consider Trump's foreign policy. It can be surmised by "speak loudly and carry a big quill." Trump wants to avoid military casualties at all costs.  That explains his abandoning of the Kurds and the re-stationing of America troops in safer parts of Syria. It explains his dealings with North Korea, Afghanistan, Syria and Venezuela. He believes he can defeat our foes through his threats, bluster ending in negotiations by penning agreements.
Trump wants  the biggest military in the world but he does not want to use it in a  way that will endanger any of its members. That has become obvious on the world stage. He though does not recognize this and still believes his bluster will carry the day.
It is clear from Trump's taunting tweet earlier this day where he wrote: "Iran never won a war, but never lost a negotiation!"  Trump believes that the assassination of Soleimani is a one and done. He does not expect Iran will respond. That is his big gamble that Iran will come crawling to him seeking mercy. As Pompeo noted  he hopes Iran's "decision will be to deescalate" rather than pursue a course of retaliation."  Doesn't Pompeo see the irony calling upon Iran to deescalate what Trump just escalated?
The Soleimani hit seems very Mafia-like  thinking. One group believes if it knocks of the leader of another group the other group will call uncle.  Sometimes it works.
Iran though is not the Mafia. It is run by a group of people with strong religious beliefs called ayatollahs. Its leader is Grand Ayatollah Sayyid Ali Hosseini Khamenei.   He, and he alone, although after discussions with his counsel, will decide what the response to Trump's attack on his general will be.  At one time Khamenei was an adviser to and supervisor of the Islamic Revolutionary Guards as shown above in the photograph during the Iraq/Iran war.
Wikipedia Notes: "Koleimani was promoted to Major General by Supreme Leader Ali Khamenei.  Khamenei was described as having a close relationship with him, calling Soleimani a "living martyr" and helping him financially." 
Did Trump take that into consideration when making his bet that Iran would fold? If Trump is wrong and Iran retaliates, what then? Katy bar the door!!!