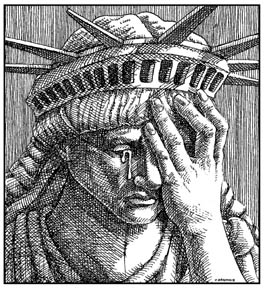 At his news conference with Putin we saw Trump standing at a podium next to Putin. We heard Putin say: "I had to reiterate things I said several times, including during our personal contacts, that the Russian state has never interfered and is not going to interfere into internal American affairs, including the election process."
As I mentioned yesterday Trump said in response to whether he believed Putin when he said, as set out above, he did not interfere in the election: "I have President Putin. He just said no it's not Russia." He went on to say: "President Putin was extremely strong and powerful in his denial today."
Last November Trump had this to say after meeting with Putin: "He said he didn't meddle. He said he didn't meddle. I asked him again. You can only ask so many times. Every time he sees me, he says, 'I didn't do that.' And I believe, I really believe, that when he tells me that, he means it. I think he is very insulted by it."
Yesterday Trump said: "let me be totally clear in saying — and I've said this many times — I accept our intelligence community's conclusion that Russia's meddling in the 2016 election took place. Could be other people also. A lot of people out there."
In a CBS television interview yesterday Trump was asked: "You say you agree with U.S. intelligence that Russia meddled in the election in 2016."  Trump responded: "Yeah and I've said that before, Jeff. I have said that numerous times before, and I would say that is true, yeah."
I suggest once and for all we can put aside the question whether Russia interfered in the 2016 presidential election. We all agree that it did. That obviously makes Putin in to a big liar, don't you think. From above we see that over and over again Putin lies directly to Trump about the matter. Trump accepts his lies at one point but now apparently agrees he has been lied to.
Putin would also say during that press conference: "We  should be guided by facts. Could you name a single fact that would definitely prove the collusion? This is utter nonsense, just like the president recently mentioned."
Putin was referring to the remarks just made by Trump: "I think that the – the probe  is a disaster for our country. I think it's kept us apart. It's kept us separated. There was no collusion at all. Everybody knows it. And people are being brought out to the fore (ph). So far that I know, virtually none of it related to the campaign. . . . It's ridiculous. It's ridiculous what's going on with the probe." Trump would conclude his remarks stating, as he has said many times lately, that the Mueller probe is a "total witch hunt."
Mueller has been charged to investigate Russian involvement in the 2016 presidential election. Now that Trump has admitted, finally, that he believes Russia did interfere, how can he then call Mueller's investigation a witch hunt?
Trump by continually pushing this line is colluding with Putin to hide that the Mueller investigation is based on actual happenings. Up until the last couple of days he has denied Russia's involvement so that he can maintain the fiction that there is nothing there for Mueller to investigate.
What makes his denials particularly egregious is that he well knew before he was sworn in as president that Russia had interfered with the election. According to an article in the New York Times: "Two weeks before his inauguration, Donald J. Trump was shown highly classified intelligence indicating that President Vladimir V. Putin of Russia had personally ordered complex cyberattacks to sway the 2016 American election. The evidence included texts and emails from Russian military officers and information gleaned from a top-secret source close to Mr. Putin, who had described to the C.I.A. how the Kremlin decided to execute its campaign of hacking and disinformation. Mr. Trump sounded grudgingly convinced, according to several people who attended the intelligence briefing. But ever since, Mr. Trump has tried to cloud the very clear findings that he received on Jan. 6, 2017, which his own intelligence leaders have unanimously endorsed."
Putin asked for a single fact to show collusion. I've just set forth a plethora of them which shows Trump purposefully conspired with Putin to pretend he did not interfered in our election. Rather than confronting the enemy that attacked us, Trump covered-up its actions and gave it aid and comfort.
Why would he want to work for Russian against the United States? That is the question that must be answered.