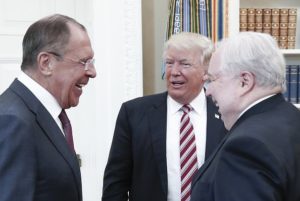 Belatedly, almost as a mea culpa for failing to act earlier, in the waning days of his administration President Obama acted against Russia for attacking America during the 2016 presidential election. On December 29, 2016, President Obama issued sanctions against Russia for interfering in the 2016 American election.
Keep in mind President Obama knew this attack was occurring during the election but failing in his oath which he took as president that he "will to the best of my Ability, preserve, protect and defend the Constitution of the United States." he did not warn the people that Russia was working to elect Donald Trump. Only within a couple of days before 2019 did he tell us that "every American should be alarmed" by Russian activity.
Obviously Obama was quite naive in making this suggestion. He should have known that Trump and his coterie of followers would not be alarmed, rather they would be thankful for the Russian lift over the wall into the garden of the White House. By the time Obama issued his statement Trump's team of vagabonds were fully aware of the Russian actions. Not the least of them was General Michael Flynn Trump's national security adviser.
He thought he would take full advantage of Russia's assistance and arranged to meet with Russian Ambassador Sergey Kislyak to discuss Russia holding back on responding to Obama's sanctions among other things. Implicit in his request was that Trump would do what he could do to ease them.
Flynn when asked about his interactions lied about them. That went along with the lies Trump had been telling about his deals with Russia. While he shouted out to his followers he had no dealings with Russia he was seeking to build a Trump hotel in Moscow. Then there were the many other lies told by the Trump gang about meetings with Russians during the campaign. Along with that we had Trump calling on Russia to expose Hillary's emails and his constant praising of Putin.
Subsequent to that time the strangest of all meeting occurred. It was the May 10, 2017, meeting among Trump, Russian Ambassador Kislyak, and Russian Foreign Minister Lavrov in the Oval Office from which all Americans were excluded and the only photographs of the meeting came from Russian news agency TASS.
Following up that we have the very strange meetings between Trump and Putin  from which all Americans are excluded other than an interpreter. After the meetings the interpreters must surrender their notes. These are all done in light of the actions that should have alarmed Americans.
Trump has continued to pretend that there was no Russian interference on his behalf in the American election. To do that he has to denigrate the American intelligence services which have protected this country from further foreign attacks since September 11, 2001, other than those by Russia.
Trump said Monday despite his attacks on him suggesting that he was another Joe McCarthy "that special counsel Robert Mueller acted honorably." Now that little doubt remains that Mueller's investigation found that Russia did attack America to help Trump one can only wonder whether Trump himself is acting honorably in refusing to acknowledge it.
The Russians have been playing the Mueller findings as if they have stated there was no interference in the American election. The question remains is whether Trump will follow suit. How beholden is Trump to Russia for having done this.
"Senior intelligence officials described Russian efforts to interfere in the 2018 midterm elections as deep, real and ongoing, showcasing their efforts to combat a threat President Trump has repeatedly dismissed and played down."  Director of National Intelligence Dan Coats stated "We continue to see a pervasive messaging campaign by Russia to try to weaken and divide the United States."
There is cause for alarm now even more than before. Obama recognized the Russian attacks but did little about it; Trump doesn't want to recognize that they happened. He deals with Russia as if it didn't, isn't and is not continuing to interfere in American elections. Why?
Perhaps rather than being alarmed about it he welcomes it. It got him elected in the first place and surely will help him in 2020. What then is Putin expecting from him in return?