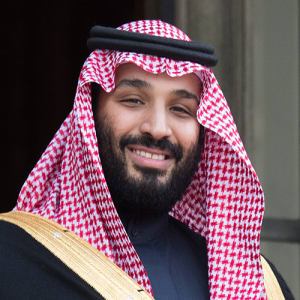 Jamal Khashoggi went in the house;
Jamal Khashoggi never came out;
All the Saudi money and all the rogue spin
Couldn't put Jamal together again.
Yesterday I wrote about the mystery surrounding Jeremy who went into Gerry's office and never came out and was never seen again. Some might have noticed the similarity between that and the situation involving the missing Saudi dissident journalist Jamal Khashoggi who went into the Saudi tent and never came out. Well, that's not totally right. I should write he never walked out again.
There is a mystery now facing the world. No, not the one about Jeremy. I think we were able to figure out what happened to him. And not the one about the Jamal Khoshoggi. I think we can pretty much figure out why it is that he didn't come back out of the Saudi Arabian embassy in Turkey after leaving his fiance waiting for him. The mystery is why some people  think this is a mystery.
My gut would tell me that the above guy Mohammed Bin Salman, better known as MBS, is a very sensitive 33-year-old guy. A couple of other guys in their thirties that we have heard of are also quite sensitive. One, is Kim Jong-un who is 35-years-old. He would respond to criticism by putting his critics in front of anti-aircraft guns and pretend that they were enemy planes attacking his country. The other is Jared Kushner an elder at 37-years old who is best friends with MBS and whose father-in-law has said he's in love with Kim Jong Un.
My gut tells me that MBS would not have had Jamal Khoshoggi knocked-off as some allege if he did not get his buddy's okay to do it. His buddy has bigger fish to fry than worrying about some journalist who self-exiled himself to the United States because he was worried about MBS's sensitivity. I think the plan his buddy was given was that they would lure Jared back to Saudi Arabia and then make him disappear like Humpty Dumpty. Who'd care?
MBS fell into thinking that anything he did would be okay with his buddy and his father-in-law. After all, Kim Jong-un had wiped out his uncle and his family, had murdered his brother, keeps running labor camps, and suppressing his people and Trump loves him so how could the murder of a journalist cause anyone any bother. After all in the first four months of 2018 he had 48 people beheaded and the dynamic duo, Donald and Jared, had nothing to say.
Well that's not exactly right. They did through their toady Secretary of State Mike Pompeo certify that the Saudi's actions in its brutal war on the Yemeni people, who are at the brink of undergoing the worst famine in a century, are being taken "to reduce the risk of harm to civilians and civilian infrastructure" which certification was given right after the Saudi's bombed a school bus carrying 40 school kids using American weapons.
Speaking of Pompeo, it is reported he is going to Saudi Arabia to talk with MBS about the mystery involved in Jamal's murder. They'll trump up some story. Trump has already talked about a rogue group of killers who mysteriously arrived on the scene and did the dirty deed. He'll be telling us that the hit team that flew in from Saudi Arabia on two planes were coming to celebrate Jamal's birthday on October 13 but somehow they got confused and angry when Jamal didn't blow out all the candles properly.
The really remarkable thing in this whole event is that the Saudis have threatened the United States if not the world. "The kingdom emphasizes that it will respond to any measure against it with an even stronger measure. The kingdom's economy has an influential and vital role in the global economy." 
Right now the Saudis are in Turkey with their bags of money seeing how much it will cost to get the Turks to buy into some rogue theory. Unfortunately, unless Jamal is put back together again the facts seem to bar such a happening.
We now see where Trump's love affair with dictators has led to. We either go along with their ignoble actions or else. What will Trump do now that his hand has been called. I'd guess it would be the usual: lie and fold.