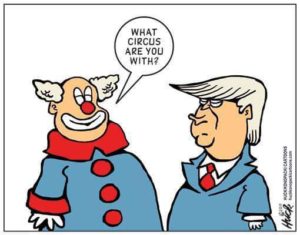 I don't pay too much attention to watching the news on television lately. I guess it is good because I would not have been subject to hearing Jared Kushner spell out what a resounding success the United State is having in dealing with the Coronavirus. I heard that Trump also has been saying something along those lines fitting them in somewhere between him telling us the United States has done more testing than anyone else in the world.
Last night I watched Bill Gates on the Anderson Cooper show. Wow is he impressive when it comes to having knowledge about these matters. One thing that struck me was he said at least two times that had we taken the matter more seriously in January and February then the numbers of positive cases would be infinitesimally smaller than what has happened.
Dr. Fauci was on before Gates. He's predicting that if everything goes absolutely right that by January we could have a vaccine. Then he had a caveat that rarely does everything go right. Gates was more and less optimistic than Fauci. On the less side he doesn't think we'll have one anytime near that date; on the optimistic side he tells about the various types of vaccines that are being worked on some dealing with RNA, others with anti-bodies, and others similar to the flu vaccine indicating there is one in Oxford England that looks quite promising.
He mentioned that his group has already set aside a factory to manufacture the anti-body vaccine. But Gates reminded us that they are still working on an effective HIV  vaccine and you know how long that has been. So basically he suggested anyone talking about a time line is guessing.
But I'd like to get back to the idea that Trump is doing a successful job in dealing with the virus. I suppose you can only say that if you close your eyes to the countries that have had some success and only look at Italy, the UK, France and Spain. Certainly you can always find some country worse than you and point to that and say I did better than that country. That doesn't mean you are a success.
It reminds me of the time when I was getting my sea legs at Boston Latin School in the seventh grade. I had not quite caught on to the idea of there being a relationship between school grades and homework. I thought my green school bag into which I loaded my books was not to be opened once I left school until I returned to it the next day. The lure of hanging around on the street was too, too much for me to resist.
When I brought my report card home which had a bit of red ink on it, yes, they did use red ink on your cards back then if you scored below 60. I'd show it to my father and watch him reading it and seeing he was about to blow a gasket. I'd suggest to him that if he thinks that my card is bad he should have seen another boy's card. I couldn't figure out why he didn't care that I did better than some other sluggard. I will skip what my father did when the gasket actually blew off.
That's what I think of when Trump tells us how good he is doing. Too bad my dad wasn't around to smack a little sense into him and tell him we don't care that the United States did not come in last, we expected more of it. We are the United States not some back alley country.
The United States has 1,067,000 positive cases. Yesterday there were 29,091 new positive cases. It has had 62,860 deaths. Yesterday there were 2,007 new deaths.The US is first in the world with cases and deaths.
China where the virus originated has five times our population. It has had 84,000 positive cases. That's 983,000 less positive cases than the US. China has had 4,637 deaths. That is 58, 223 less deaths than the US.
South Korea  has had 10,744 positive cases and 248 deaths. Germany with one-fourth of our population has 163,000 (US equivalent 652,000) positive cases and 6,623 (US equivalent 26,492) deaths. Austria 6,766 (US equivalent 250,508) positive cases and 93 (US equivalent 3,443) deaths.  New Zealand with five million people has had 1,479 (US equivalent 97,022) positive cases and 19 (US equivalent 1246) deaths.
Successful Trump hasn't been.
And don't start telling me we could have had one, two or three or even more millions of deaths. To follow this logic China could have had ten, twenty or thirty plus millions of deaths. Everyone could have millions of deaths if, as Trump said, nothing was done about it. But even the most backward country did something about it and most did more than Trump.