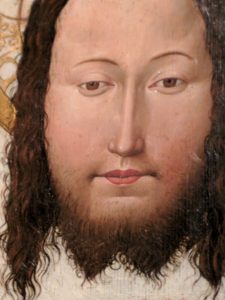 On December 15 less than a month ago Secretary of State Tillerson announced at the United Nations, three days after he said the US would talk to North Korea "without precondition" that "A sustained cessation of North Korea's threatening behavior must occur before talks can begin." Tillerson echoed Trump's position "North Korea must earn its way back to the table. The pressure campaign must and will continue until denuclearization is achieved." 
On December 18 National Security Adviser H.R. McMaster stated: "The President has made very clear that on North Korea for example, now is not the time to talk. And what he means is, there can't be negotiations under these current conditions … The problem is now that their programs have advanced so far we don't have time to do that again and so we can't repeat the failed pattern of the past."
It was clear then. Trump's position is that North Korea must give up its nukes before we will talk to them. Trump although still keeping his threats alive is pining his hope on the new boycott of North Korea that neither Russia nor China are abiding by.  The idea that North Korea must give up its nukes before talks begin is a position everyone knows is a non starter.  It is just not going to happen.
On Thursday, January 3 Trump tweeted:
"With all of the failed 'experts' weighing in, does anybody really believe that talks and dialogue would be going on between North and South Korea right now if I wasn't firm, strong and willing to commit our total "might" against the North. Fools. but talks are a good thing!"
What do you think of that in light of what I just wrote? Are you baffled by Trump's assertion "talks are a good thing" when he refused to have talks? Do you think it was Trump's threats and childish comments that made North Korea open the door for dialogue with South Korea? Or is there something else afoot that is way over Trump's head?
I suggest Trump has been playing into Kim Jong-un's hands for a year. Kim knew he needed time to reach his goal of being able to threaten America. Trump gave him that time. Kim also knew that he had the upper hand because Trump's threats to go to war with him were empty. China and Russia would also be involved something Trump could not afford. Mostly he knew that any war would result in the massacre of millions of South Koreans aside from his own people. That made him recognized war was out of the question and he could bait Trump without any blow back.
He also knew he could benefit by baiting Trump. Trump's response was to continue to threaten war. Those threats became highly unsettling and frightening to South Koreans who lived next door to the people being threatened. They began to see Trump and the United States not as a protector but as a malevolent force over which they had no control. Few in South Korea felt comfortable in putting their lives in the hands of Trump and letting this erratic foreigner control their fate.
A Newsweek article on the day before Christmas noted "South Koreans Fear Trump More Than Kim Jong Un."  An author, Barbara Demick, who lived there for four years writing her book about North Korea stated: "I think almost any South Korean you talk to would say they're much more frightened of Donald Trump than they are of Kim Jung Un." She went on "There is very much the view among many South Koreans that we are the problem, that our whole presence there is counterproductive."
Demick added that Trump has given North Korea: "the greatest gift ever [b]ecause anti-Americanism is the force that gives them meaning. It's their raison d'être." It is also the force that can bring the Korean people together.
Kim having seen how Trump had alienated and unsettled the South Korean people is taking the opportunity to bring about a rapprochement. Both countries have agreed to enter into open dialogue. There are no preconditions to their talks. South Korea's president is Moon Jae-in described as being "of a progressive faction called the Minjoo Party of Korea."
Under the heading "Are We About To Lose South Korea" the article on March 30, 2017, in the NY Post noted, "Moon's plan . . . is to start with "economic unification" and move tot he goal of "political and military unification." The United States has been shuffled to the side.
Where the talks between these nations may lead is difficult to predict just as Kim's request for the talks proved a complete surprise.  A big question is whether Kim will suspend his nuclear or nuclear tests.  Already ,I assume under pressure from Moon, the US and South Korea agreed to suspend joint military exercises until after the Olympics.
Here's where we stand. Trump's war mongering threats have naturally shaken the South Korean people. Their desire for safety has turned them away from America. No longer will their leader Moon Jae-in who is desirous of dealing with North Korea face strong opposition at home. Trump has put Moon in the best position of any South Korean leader to come to a deal with Kim Jong-Un.
The bottom line is that Trump has increased the chances that we lose South Korea as an ally while North Korea continues to build its nuclear and missiles capabilities. No other president has been able to accomplish that.