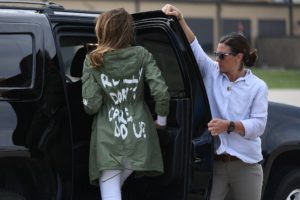 You have to admit that what we got in the White House was a guy who pretty much lives up to expectation as to what you thought you were getting. The latest step on the road to ignominy was the Melaney's trip to visit the children who were in the custody of the United States government who were trying to get entry into our country.
As you know she's known as a clothes hog and has more clothes to choose from than Imelda Marcos ever dreamed of owning. So she choose to wear a cheap thirty-nine dollar green jacket emblazoned with the words "I really don't care. Do U?" 
My editor on reading this reminded me that I called her Melaney. "Hmm," I thought, "how did I come up with that?" After thinking a bit I guess it was because it rhymes with the word "felony" which is pretty much what she committed wearing that jacket going on a trip to visit poor guiltless children held in confinement. In my mind she did not commit a criminal act but is as the old definition of felon c. 1300 has it, "one who deceives or commits treason; one who is wicked or evil; evil-doer," used of Lucifer and Herod, from Old French felon "evil-doer, scoundrel, traitor, rebel, oath-breaker, the Devil." Yes, her act in wearing that message under the circumstances could only have been done by "one who is wicked."
My editor was still standing there as I thought about that. He interrupted my thought by saying, "well, are you going to change it?" I responded, "change what?" He replied "correcting her name. Making it Melania." I pointed to the photo of her jacket and said: "that's my answer. I really don't care."
Melaney's spokesperson Stephanie Grisham  made little of it saying: "It's a jacket. There was no hidden message. After today's important visit to Texas, I hope the media isn't going to choose to focus on her wardrobe, . . . " Of all the jackets in her closets she decides to wear on that just happens to have a message as if it was the only one she had. Grisham is right. There was no hidden message. It was quite out in the open.
Trump told us there was a message. "'I REALLY DON'T CARE, DO U?' written on the back of Melania's jacket, refers to the Fake News Media," Trump tweeted, as is his style. "Melania has learned how dishonest they are, and she truly no longer cares!"
That makes as much sense as Melaney's spokesperson. If I had to guess, if the message was  not giving the middle finger to America because we are all little people who she really can't be bothered with, it was to her fake husband now that she had learned how dishonest he is and she truly no longer cares. It must drive Trump bat crazy to think he can't wallop her as it is rumored he did before she went to the hospital for the "kidney problem."
Whatever the reason there was a purpose in wearing a jacket with a message. That is the class act we have in the White House. You really have to shake your head and wonder what is going on in their minds. Can you imagine any other person in the position of Melaney who would be so shameless as to wear a message of not caring while going off to visit the poor kids?
Perhaps, as cousin Jeff Rogers wrote, the jacket is just a distraction to get our attention away from the many other problems the Trumps face. He suggests we look at what matters and stop speculating on what goes on inside the minds of the Trumps. He may be right. So I'll not go on but just remind you what we see in the White House is what was voted for by sixty million Americans and there is no way  they can now say "Out, damned spot! Out, I say!—One, two. Why, then, 'tis time to do 't. "