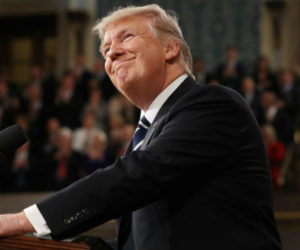 Do you think Trump looked at that invasion force of women and children moving up through Mexico and wondered if any of the women were pregnant? I can't get that thought out of my mind. So I went to my source who has an insight into Trump's thoughts and I was told that here is what happened:
"Gees, those women of color who are planning an invasion of our country are probably Catholics who follow their church's teachings. That means if we let them into our country and they have babies then those little brats will be American citizens. We can't have that, can we?
Don't we have enough of those non-white babies who live here already. Yeah, those are the ones who we can't send out of here because we're stuck with them because they are citizens. That reminds me, I must check in and see how we're doing getting rid of those Dreamers who entered here illegally as young kids. At least we can get rid of them.
But the women in this cavaran will have  babies in this country and so will the Dreamers unless we act fast. They will make our country less white, less great. Gotta come up with some solution. Maybe, yes, just maybe I can declare that no more babies born in this country to people who are not citizens will be citizens. I'm sure my lawyers can come up with something to justify it.
Oh, what about the Russians. They're white people so they're all right. Plus, not that this matters they are coming to my hotels and properties in Florida to have their babies. If I change things then its going to affect me in the pocket-book but maybe I can make an exception for them.
Maybe using something like the Monroe Doctrine in reverse – you know – babies of non citizens in the areas covered by the Monroe Doctrine are not entitled to United States citizenship because they are under the United States protection already, something like that. That will let the Russians continue to come here.
That won't work. That would mean babies of people from the Middle East, Africa and Asia would become Americans. We can't have that.  We gotta come up with something else. I'll work it out with Putin – maybe some legislation like when we gave people in Russia who were being persecuted under the Soviets special exemptions to immigrate here we can do the same for Russians. Best done that way, make a rule no babies born in America to people who are not citizens can become citizens then make exceptions down the road.
I'll just make that a new rule. Maybe that will stop this invasion force heading up toward our border. Just in case it doesn't, I'll send the Army there to fight them off. They're not armed so our casualties will be minimal. 
What about that pesky 14th Amendment – never should have passed but the good ole boys were not in control of their states so it got by – what's it say – yeah, "All persons born or naturalized in the United States, and subject to the jurisdiction thereof, are citizens of the United States" 
Hold on. I'm making it too complicated. Obviously the 14th Amendment only applies to those born here whose mothers are here legally. Back then there were no illegals.  It's simple. I make it apply to babies of illegals. That lets the Russians in. Maybe we can limit visas in the future to only whites.
I'll talk to Kavanaugh and Gorsuch. They'll buy it with something – you know – they can figure out the original intent – like Scalia did on the guns – you know – go back into old England and find something to support me. After all they owe me bigly. 
I'll just order it and depend on them. The law is what they say it is. 
 Oh, time to  go. I have to go to that rally and unload on Crooked Hillary so she won't win. Oh, that's right. I won by an overwhelming majority of Americans when you don't count those millions of illegals. I keep forgetting I won. I guess that's what happens when you get old. Now, what was I thinking about?"