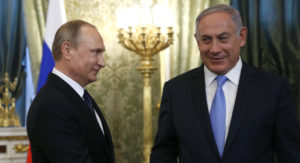 I suggest that you can take judicial notice that never in our history has a president-elect caused such turmoil during his transition from election to being sworn into office.  Judicial notice means that the truth of that fact is so notorious or well-known, or so authoritatively attested, that it cannot reasonably be doubted. Is there anyone out there of reasonable intelligence who has been awake during that time who could possibly disagree with that statement?
What then do you make of it? Is it a good thing that so many unsettling things have occurred even before the man is sworn in? Are you comforted knowing that so much has been thrown into doubt since he was elected that the world as you thought you knew it before his election is not that of the world today and he has yet to be sworn in?
You can take judicial notice that for over 70 years not one country in Europe allied with America has invaded another. You can take judicial notice that only Russia has seized land from other countries in Europe and kept those lands. In other words only Russia has flaunted the peace in Europe through the use of force. You also must recognize Russia is run by one party under the control of Putin and is not a democracy.
Now Trump is questioning the value of NATO which has maintained the peace by protecting Europe from Russia's aggression. (Remember the enslaved nations?) NATO was not set up to fight terrorism which Trump claims it is deficient on doing.
Trump claims NATO is obsolete because it was designed many, many years ago. Will we soon hear him claim other things like our Constitution and Bill of Rights are obsolete because they are old?
Some have alleged NATO threatens Russia even though in its existence it has been a defensive organization. Not once did it do anything to threaten Russia. Some make the nonsensical suggestion  that stationing of a battalion of troops including U.S. soldiers in Poland or sending 300 Marines to Norway threaten Russia. Russia has multiple divisions stationed on the borders its borders. which gives lie to that claim.
Trump has also said he does not care if the EU is separate or together. He backs the British exit from that union. He is hoping to undermine European institutions that have brought us peace. Both attacking NATO and the EU are helpful to Russia which does the same thing. It does not help America or its long-term allies.
A real problem that has already been created. Trump is making America a fickled ally. Many European countries will have lost confidence in the United States. What do we gain by causing  these countries not to trust America?
How is it possible that we would consider abandoning Western Democrat governments who have stuck by our side since WWII in favor of a country that since the days it overthrew Tsar Nicholas II 100 years ago had been trying to undermine democracies, especially America.
I suggest the answer comes from examining the ties between Russia and Israel. As you know Trump plans to move our embassy to Israel. Neither the EU or any other European nation will follow that move. The EU foreign minister said: "It is very important for us all to refrain from unilateral actions, especially those that can have serious consequences in large sectors of public opinion in large parts of the world," The French foreign minister said it would be "a provocation."
That move in and of itself will cause a rupture of our relations with Europe. Who benefits by that except Russia and Israel. Will Russia then follow Trump's move? In June Putin and Netanyahu met face-to-face for the fourth time in a year. Netanyahu stated after that meeting: "We discussed the continued coordination between our two militaries in the region, which already works quite well."
Trump is on the course to set a policy as dictated by Putin and Netanyahu two national leaders who despised Obama. That is because Obama stood to keep the United States strong and to protest against Israeli settlements. Trump is now standing up for them against the United States by weakening our alliances and promoting settlements.
Today a man will be sworn in who will lead American into the darkness.