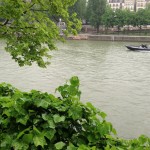 I thought it was straightforward: gangsters, guns, graves and gruesome garrottings. The jury would sit down after an hour or so take a test vote see that it was 12 to 0 for conviction and decide to come back the next day with their verdict. The next day came and all we got was questions, no verdict. The questions indicated it was not going to be a stroll in the park straight toward a conviction.
Yesterday brought a strange day – all quiet on the jury front. I read it as the jury finally having gotten over the early jitters had settled into a routine of going through each charge in a systematic matter and arriving at a conclusion. Later in the day they wanted to see one of the machine guns that had an obliterated serial number.
I opined that was just some of the guys wanting to get a close up look at the German-made machine gun because anything they could have wanted to know about it they could see in the photograph. Others suggested I was wrong because they may have wanted to see that the serial number was obliterated. They had evidence from the gun expert that it was. They also had evidence that it was operable and fired. I figured if they didn't believe the expert when he said it was obliterated then why would they believe him when he said it fired properly. If it was the expert they doubted, today we should be at the secret firing range having the expert lock, load  and fire.
Any lawyer who has tried an important case in a criminal matter before a jury will tell you that hardest part on the gut is the wait between charge and verdict. I never especially liked it. Sitting in the office every time the phone rang I'd think it was about the case; or at the courthouse each court officer that walked down the corridor or each knock on the office door would set my nerves a jittering. Maybe it was just me. I couldn't do any else while the jury was out but wait and wonder trying to figure out what was going on and looking for a little heads up on the final outcome. There was nothing else I could do at that point. I had given it my best. Yet the wait consumed all my attention.
I mention all that because J.W. Carney who has been working this case for a couple of years and is eight weeks into the trial aspect of it caused the news media's keyboards to flutter. Carney is a master at drawing attention to himself and he did it in spades when he took off his sock and shoe and expounded on his purple painted toe nails. But he's never done anything close to this before so it shows he too has gone a little over the edge with the wait. Who knows but today one of the prosecutor's may show up in a lovely purple dress with matching heels.
It was silly time yesterday afternoon with those waiting in court getting the madness which comes with being tired. Imagine then what it must be like for the jurors who have mountains of documents and days of testimony to discuss and who have some among them who believe they should discuss it. What are we to make of all this?
I wanted to hear what the reporters in the courtroom would say about the jurors. Laurel Sweet of the Herald comes through with: "This is not a happy looking group"; Adam Reilly adds, "I'd say they look miserable and exhausted."
Now I don't know what to think.  Yesterday morning may have been quiet because the jurors were angry at each other and no deliberations were going on at all. Or, maybe they were happy up until 4:00 pm having resolved all their problems and were ready to report the verdict and all they needed was that one person to say OK to one minor issue and then they would not have to come back today and she wouldn't budge so their frustration is due to being forced to come back tomorrow.
The bottom line is that right now all we can really know is that the jury will begin to deliberated again today. We can't say the jurors have thoroughly examining the case because we don't know anything about what they are doing, other than some played around with a machine gun yesterday.
The agents are waiting outside the courtroom contract in hands waiting to sign up the jurors for their stories. Network news waits anxiously to snag one or two. Who knows but one or two of the jurors may have already signed contracts. But no matter what you read, the truth is we know next to nothing.