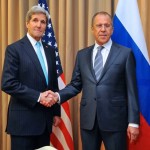 Where's Yogi Berra with his "deja vu all over again" when we need him.
On Thursday when the US, EU, Russia and Ukraine were meeting in Geneva, Vladimir Putin made a four hour speech to millions of watchers among his people in Russia. Among the things he said is: "The Federation Council granted the president the right to use military force in Ukraine." He continued: "I really hope that I do not have to exercise this right and that we are able to solve all today's pressing issues via political and diplomatic means," 
He then went on to talk about certain areas in the south and east of Ukraine by referring to the region in question by its tsarist name "Novorossiya", or "New Russia", as it was referred to in the 19th century. He noted:  "It's new Russia, Kharkiv, Lugansk, Donetsk, Odessa were not part of Ukraine in tsarist times, they were transferred in 1920. Why? God knows. Then for various reasons these areas were gone, and the people stayed there – we need to encourage them to find a solution."
Less than a month ago Putin was saying the same thing about Crimea. He said: Crimea has always been an inseparable part of Russia. He continued:  "Then, in 1954, a decision was made to transfer the Crimean Region to Ukraine . . .  It was only when Crimea ended up as part of a different country that Russia realized that it was not simply robbed, it was plundered. . . . All these years, citizens and many public figures came back to this issue, saying that Crimea is historically Russian land . . . ."
Putin made it clear in late March and again on April 17, 2014, that he intends to reclaim land that he considers to be part of historical Russia. Fix that in your head and then look at what was accomplished at the meeting in Geneva.
To start off with, remember Putin denying that Russian troops had invaded Crimea, well in his lengthy speech he admitted he lied back then. Yes, Russian troops had gone in to protect the people's right to vote to join Russia. Now he is saying he does not have Russian troops in eastern Ukraine. Do you believe him?
In Geneva the parties reached an agreement. When asked about his confidence in the deal President Obama said: "I don't think we can be sure of anything at this point."  Not a big vote of confidence in Putin. Obama noted: "Russia's hand is in the disruptions and chaos that we have been seeing." Who can doubt it?
Keep in mind, this is not a civil war as many tell us. It is an invasion by one country by another.
Anne Applebaum talked about: "the Russian invasion of eastern Ukraine" saying it "involves not soldiers but local thugs and volunteers, . . .  some from criminal gangs, and some who mistakenly think they are fighting for some form of benign local autonomy. They are being led not by officers in uniform but by men from Russian military intelligence and special operations forces, some wearing camouflage without insignia, some communicating with "activists" by telephone. They are supplied with Russian logistics and a few Russian automatic weapons, .  .  . ".
Now to the snookering. The EU, US and Ukraine foolishly agreed with Russia that: "All sides must refrain from any violence, intimidation or provocative actions . . . ."  The problem with that is Russia denies that it is involved in any of those activities, and we know neither the US or EU are affected by that provision, so it only applies to Ukraine. If Ukraine does other than sit back and let the Russian thugs run roughshod over the land it will be accused as engaging in violence. Ukraine has surrendered its right to defend itself.
The agreement also suggests that "all illegally armed groups must be disarmed." Who is going to do this? Do you expect Russia will disarm its own forces? The Eu and US believe this applies to the troublemakers in eastern Ukraine. Russia reads this as saying that all those Ukrainians who took up arms in Maidan must surrender them. Russia will demand the Kiev government disarmed them which will make it easier for it to invade Ukraine.
It goes on: "all illegally occupied streets, squares and other public places in Ukrainian cities and towns must be vacated." Who is going to determine what streets are "illegally occupied?" Keep in mind Russia has said that the Maidan occupation was illegal. Will the Kiev government have to evict those who brought it into power?
Now when the Ukrainian government realizes it has agreed to something that is impossible to do, it will give Russia the justification for invading to enforce the agreement. It will turn to the US and EU and say "what's your problem? You agreed to this and the Ukrainians are not doing it."
The present Ukrainian government in Kiev in Russia's eyes is illegal.  When the parties agreed: "all illegally seized buildings must be returned to legitimate owners" does that mean the Kiev government must vacate the premises. It remains to be seen but the loosely worded agreement opens the door for New Russia. Guaranteed.