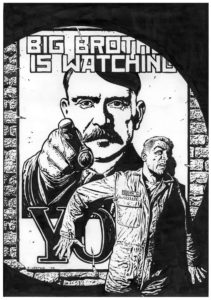 Perhaps Trump's Team finds inspiration in Orwell's two main books Animal Farm and 1984. Trump read neither book. He did not have to. He's a demagogue at heart and recognized how he could achieve control instinctively.
From 1984 we get the terms "Big Brother", "doublethink" and "newspeak." It has been called "the definitive novel of the 20th century." We know the term "Orwellian is now a universal shorthand for anything repressive or totalitarian." The protagonist belongs to the Ministry of Truth whose purpose is to lie.  In an interesting historical note a colleague of Orwell said that during the Tehran Conference of 1944 "that Orwell was "convinced that Stalin, Churchill and Roosevelt consciously plotted to divide the world" at Tehran." How true that turned out to be as we saw with the Yalta Conference the following year.  He would now be saying that of the Trump/Putin alliance.
Orwell writing about Animal Farm said: "But I did mean it to have a wider application in so much that I meant that that kind of revolution (violent conspiratorial revolution, led by unconsciously power-hungry people) can only lead to a change of masters. I meant the moral to be that revolutions only effect a radical improvement when the masses are alert and know how to chuck out their leaders as soon as the latter have done their job." A little bit later he ended the letter saying: "You can't have a revolution unless you make it for yourself; there is no such thing as a benevolent dictat[or]ship."  Orwell would today say  that let Trump do his thing for a bit then throw him out of office.
As I said Trump has not read either book but I am positive people like Steve Bannon who are running the show behind the scenes "the unconsciously power-hungry people" are aware of Orwell's books. They were drawn to Trump by his Big Brother-like aspect. They saw in him a man who lied with ease and had the facility like dictators to draw large violent crowds to cheer he every word of hate like "lock her up" and "build the wall." Here was a man who with his doublespeak and newspeak had a strong following who believed whatever he said. It was the perfect set up by them for the revolution that they wanted to bring about.
The major force behind Trump is Steve Bannon. Ronald D. Radosh wrote  about a conversation he had with him in November 2013. He wrote about the man who replaced Russophile Paul Manafort on Trump's team: "we had a long talk about his approach to politics. He never called himself a "populist" or an "American nationalist," as so many think of him today. "I'm a Leninist," Bannon proudly proclaimed. Shocked, I asked him what he meant. "Lenin," he answered, "wanted to destroy the state, and that's my goal too. I want to bring everything crashing down, and destroy all of today's establishment." 
I've already pointed out how Trump tells the Big Lie and then has his lackeys spending countless hours justifying them. Here's a good article on how his voter fraud claim which he would admit was made up out of whole cloth came to be adopted by his witting followers.  That is what Orwell warned against the extraordinary number of people who will grasp at an obvious lie and then work feverishly to justify it.
I lament the lack of a present day Orwell. Perhaps there is one out there who can cut through the miasma and fog pouring out of the Trump White House. Orwell told of the Ministry of Truth which disseminated its lies over the televisions in every home. A huge Trump supporter, Tadzio, who comments here identified how Trump modernized this ministry. He has done it with his Twitter account. I criticized his use of that means of communication when he became president.
I missed the power of it badly. He tweets out to 23 million followers. Many of those retweet to others. His tweets then are repeated through all other media sources. He talks directly to the people using his lies and doublespeak to attack others. I am sure Orwell could have predicted this if he lived an made us alert to this new and compelling form or demagoguery.  He also would tell us not to be caught up by it and identify it by its right name: an Orwellian time.