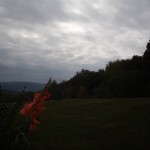 A short but interesting day before Judge Stearns. Yes, you read that right, the case was kicked upstairs to Judge Stearns. He was on the bench around fifteen minutes. Stearns entered the courtroom quickly commenting on the remarkable show of interest in a motion hearing. The courtroom was packed. Anyone thinking this isn't going to be one of the biggest cases heard in this area since the Sacco Vanzetti matters just isn't getting the interest in it. To be frank, I sometimes wonder at this myself even though I have a blog dedicated to it. The jury box was filled with 16 members of the media. A dozen TV cameras were set up outside the courthouse.
Stearns announced that there were two matters in front of him that had to be decided today. A motion for a continuance and a discussion of the dates for filing substantive matters. He said he'd listen to counsel on the motion for continuance and looked at J.W. Carney.  Shortly after Carney began Stearns said he wanted the record to be clear on one thing. He's heard it suggested that the March 5 date was an arbitrary date set by him.  He said he set that date at the request of defense counsel who argued in February of 2012 that he needed a year to prepare the case.
Carney thanked him for giving him the opportunity to make an oral argument  His pitch was what we've heard before. The many pages of discovery which he has to read, compare, review and discuss with others and his client in Plymouth, the information in the civil cases discussing the 25 years of the failure to supervise the informants, the Congressional hearings, and the books written by the witnesses. All required analysis and review and the need to interview people. He said he's never had anything like this in his 34 years as a lawyer and he and Hank Brennan are going at it full-time. He suggested he's kept Judge Bowler informed about his difficulties all along. He said all the defendant wanted was a fair trail before a fair judge and which could only happen if he was prepared to try the case and he could not possibly be ready in March. He suggested a trial date in November.
Stearns agreed that Carney has been arguing the need for a continuance for a while.  Stearns asked him about the other substantive motions and Carney indicated that he was not going to file any.
Carney went on saying a case he tried last year had 50,000 pages of documents and it took three years for it to go to trial, the Flemmi's case took 3 years, and that Weeks's case took four years.  He continued for a while and said the true test of justice in America is how we treat the most demonized of defendants.
Sterns thanked him and asked Brian Kelly the prosecutor for his position. Kelly said the government was of course interested in a fair trial.  He said Whitey already delayed the case 16 years by running away. He said giving defense counsel almost two years to prepare from the time the defendant was arrested is plenty adequate in this type of case. He said the defense counsel rather than cooperating is obstructing matters and that much of his complaints about duplicate documents are not valid pointing out that there would obvious be duplicates in the papers for the murder trials in Florida and Oklahoma. He said this is not a difficult case. It is not a technically hard case like a pattern dispute. Kelly said it just was a case involving cross-examination of the government's witnesses and that Carney could be ready to try it next week if he wanted to do so. He discussed how the defense counsel was changing his stance when it came to protective orders. He said they've provided much discovery but defendant is never satisfied.
He then said much of this relates to defendant's "absurd claim of immunity."  He suggested this is a legal issue to be decided by the court and not the jury and asked Judge Stearns to set up a briefing schedule for that issue.
Judge Stearns listened intently to counsel. He gave each side the opportunity to be heard. The spectators remained quiet also listening to every word.
When Kelly finished, Judge Stearns said he was taking the matter under advisement and would let the parties know in two or three days.  He left the bench just as I was settling in.
This hearing was important for two reasons. First, Judge Stearns is taking control and will quickly decide on whether the March date sticks or not; the other reason is the surprise announcement by Carney that he has no substantive motions. This means for all practical purposes the next time Whitey will be in court is when they begin to impanel the jury.
Stearns was very judicial and in command of the courtroom. He did not give the slightest hint of what he felt or what his eventual decision will be. We'll just have to wait.
Brian Kelly noted that Carney's decision not to file any substantive motions made it even more likely that the case can be tried in March. Maybe Carney threw that bone to Judge Stearns just to show he really wasn't interested in delay but as soon as he was prepared he wanted to go to trial. Judge Stearns has been on the bench over 20 years. He's seen everything. It will be interesting to see his take on this.
I'm really of two minds on this. On one hand I see Stearns going full steam ahead because he knows whether Carney is prepared or not will not matter. He'll never be reversed on appeal on this issue. On the other hand, Stearns is known for bending over backwards to be fair. If he has the slightest doubt that holding the trial date in March would be in any manner detrimental to providing a fair trial for Whitey, he will move it.
I'm pleased he's taken over. Everyone will have more certainty about the matter. You could sense by the atmosphere in the courtroom that he's the boss and what he says will go. Maybe he'll split the apple and set the trial for next June, the second anniversary of Whitey's arrest. I'll let you know as soon as I find out.