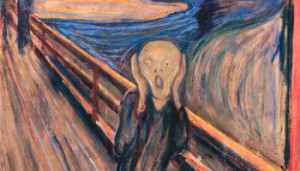 This is a story you want to keep on top off. It is because we have leaks to Russia coming from within the intelligence agency. The leaks began after the Trump administration gained access to the intelligent briefings.
The Moscow Times on January 31, 2017, had a headline: "Russian Federal Agents Suspected of Treason Reportedly Passed Secrets to the CIA." I speculated that was the reason for their arrest and now it seems that it is true. "Sergei Mikhailov, a top cyber security specialist in the FSB, and his deputy Dmitry Dokuchaev are being accused of "breaking their oath and working with the CIA," . . . 
It goes on: "Four people have been arrested in this case, and eight individuals in total have been identified as accomplices. Only four suspects have been charged, and others could get off as witnesses."
Somehow few seem to make the connection between the access to the identity of those men in Russia working for the United States which had been secure up until Team Trump was given the information and their subsequent arrests. There seems not to be a squeak about it in the American media although for me it is like a blinking red neon sign on top of a lonely diner/motel late at night on the far outskirts of town. Shouldn't there be some sort of investigation into finding out who else had access to that information after access was given to Team Trump. Did Paul Manafort get it through one of his friends on that team?
Scary stuff to think of this spies within our midst compromising the identities of people who work for us. But perhaps that goes along with our planned partnership with the Soviets Russians.
Take note of this article in the Moscow Times where the writer says after talking about the telephone call between Trump and Putin: "This new world would be a one where Russia and the United States would have primacy over other states in Europe. The same would apply to the U.S. alliances in Asia, where countries like Japan would have to look to Russia for supplemental reassurance against Chinese dominance."
I don't know how many of you are aware of Roosevelt making the same deal with Stalin which put most of Eastern Europe into what was known as "Captive States under communist rule." I wonder if Trump ever heard of Yalta or the enslavement under these communist governments of millions of Eastern European people. Is that the reason the Russians have just stepped up their attacks in Eastern Ukraine?
His actions at home with his Muslim Ban and his many lies are frightening but when you see he is entering into a pact with Russia putting it into a primary position over other states that have been free then you Trump voters must be very happy we are going back to 1945.
It was Churchill who spoke about an Iron Curtain. We now will see it again. It is the Iron Curtain coming down between the American people and those that run it out of the Executive Office where long serving members of the State Department who might have another opinion of Trump's actions are told to leave and where an acting U.S. attorney refuses to enforce an order she  believes is illegal she is said to have "betrayed" the Department of Justice which was another lie. She did not want to enforce Trump's order. It had nothing to do with the DOJ.
And my friends as the Iron Curtain descends on the truth keep in mind no dissent and those who don't follow any orders, even illegal, will be considered as betrayers.