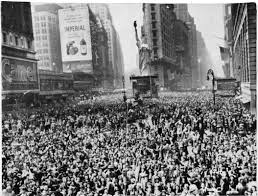 Trump is telling us that he has brought about a great success in the fight against Covid-19. If it wasn't for him – if some other president was in office – we would have over 2 million deaths from Covid-19. That we have only 100,000 – only 100,000 or almost twice as many deaths as happened in the Vietnam War –  Trump considers quite a victory.
Where are the crowds on the streets celebrating this victory?
Yes, Jared Kushner had it right – Trump's senior adviser and son-in-law – said  "the federal government rose to the challenge and this is a great success story and I think that that's really what needs to be told."
Where are the crowds on the streets celebrating this great success? Where are the Mission Accomplished signs? Is there any other president who can say he presided over 100,000 deaths of Americans in three months?
Above is a photograph of Times Square on V-E Day when Germany surrendered? People poured out into the streets all over American in celebration of our success on the European theater. There was still a war going on in the Far East with the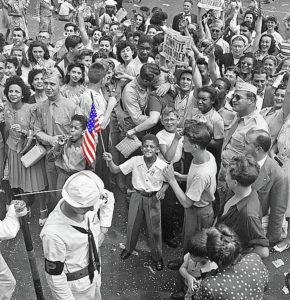 Japanese Empire. Japan would surrender in August. Again, as shown on the photograph to the left the people jammed Time's Square in celebration of victory over Japan, V-J Day.  The country had finally stopped fighting since Pearl Harbor was bombed, the day of Infamy, on December 7, 1941.
Now we have had a great success and we just hit a milestone that will be remembered for as long as our history. The 100,00 death in the great Trump success. Yet the question remains.
Where are the crowds on the streets celebrating this great success? Is it because the Deep State has ordered to folk to stay home? All right, assuming that's the case but that group has no control over the Red States. Why don't we see the crowds in Dallas, or  Butte, or Pensacola out in celebration? I have been pondering this since we claimed victory. It finally came to me.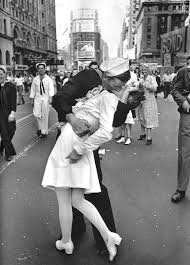 There's a twenty-foot statue in Sarasota, Florida, of the sailor kissing the nurse in the iconic Times Square photograph.  The Kiss, as it is known was a marvelous example of the elation of the folk to the news of the surrender. A sailor grabbed an unknown dental assistant and gave her a big kiss which was captured by a photographer.
Obviously that could not be done in the present age. Firstly, since we are celebrating V-V Day which was in part accomplished by not touching strangers no kissing would have been allowed. Second, to take such liberties today would cause the sailor, not being a big deal like Trump who brags how he can go around and grab women by the private parts, to run afoul of the #metoo movement and possibly result in his being incarcerated by the police for some type of sexual assault.
But perhaps there is another reason. Trump, not being the type of guy who goes around bragging about everything he does as if he was the first and only person who ever accomplished anything and his absolute refusal to use the word "great," being a humble guy does not want to make a big deal of his accomplishment.
Too bad, in these dire days it would have been nice to celebrate something, even a fake V-V Day based upon a fake success.
.