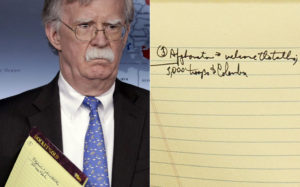 Trump is facing the first big test in office that is not something he brought upon himself. It is what to do about Venezuela. He had already recognized an opposition figure as president of the country. He has urged other countries to do the same somewhat successfully. He has pulled one seriously amatueristic  stunt sending John Bolton out who is carrying a  yellow pad displaying it openly hoping it will be read upon which the words indicate consideration of sending 5,000 troops to Venezuela's neighbor Colombia.
That stunt gave me the shivers. I thought if they think that con is the way to approach the crisis in Venezuela then we are in deep trouble. We all know there is no such plan to send American troops there. Why are they trying to pretend that there is? Is that supposed to frighten the thug Maduro. If it is it clearly didn't. He's now sending his Special Police Force around the country to murder people who are protesting against his rule.
I can only think of Syria when I see what is happening in Maduro's country. He is another Assad, a murderous dictator, who cares little for his people. He is abetted in his propensity to murder his opposition by his Cuban infiltrated armed forces, his Russian special advisers and his special thug units. We can only look to Syria to get an idea of what will happen.
You may know that once Trump announced his support for the opposition Russia's Putin told him to hold his horses. Putin lined up the usual suspect countries run by dictators who oppose democratic America to support him: China, North Korea, Turkey, all run by people who Trump admires.
We hope the opposition leader will bring Venezuela back to a functioning nation. It has the wealth to function well but under the soviet style socialist government where the leaders steal from the people and have no checks on them the food shelves are empty. Without food the people of Venezuela have been fleeing the country in droves because the alternative is to starve. It probably doesn't occur to Trump that Russia is behind Maduro and its backing has caused Venezuela to become bankrupt because Russia also has to steal from the Venezuela people. China too, is extorting large amounts of interest from the country for loans it has made which have gone into Maduro's and his buddies pockets.
The United State's history of interfering in our southern neighbors not for the best of purposes makes it reluctant to get involved there. But Trump who is for "America First" has made an exception to this policy and has, as I mentioned, endorsed the opposition leader to Maduro and Bolton pretends we are considering a military intervention.
We have given the opposition hope. Many people believe the United States will do something for them have put themselves at risk by coming out into the open with their support. They are now marked for eradication by Maduro and his Cuban and Russian allies. This now demands the United States take more firm action to carry out its commitment to those people.
The problem is Trump can only do what Putin will allow him to do. If history teaches us anything Putin will arrange it like what happened in Syria with Assad that Maduro stays in power, the opposition is destroyed, Russia keeps its strong influence in Venezuela, the people continue to starve, and the United State suffer a humiliation.
The other problem is two-fold:
(1) The White House. Trump has the attention span of gnat who will quickly be off to something else; Bolton, as shown by his stunt, is little more than a windbag; and there are few people of gravitas, if any, surrounding Trump.
(2) the United States. We have the biggest and best armed forces in the world but a great inability to use it. Outside our special forces and air forces, the rest of the many hundreds of thousands avoid situations of combat like Trump avoids books. We've too many bleeding hearts; few willing to read about bleeding warriors.
I hope I'm very wrong. I hope our talk brings about a regime change or we do something more than talk to help those people in Venezuela. We have to stop holding out a hand of hope to the world and then pulling the rug out whenever someone is naive enough to reach for it.