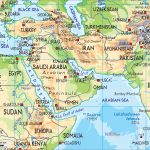 Secretary Kerry having handed Israel the trump card in the Syrian affair, we have to ask what it will want from us to bail Obama out.
Jodi Rudoren, a Newton native, is now the bureau chief in Jerusalem for the NY Times. She and another penned a highly interesting article on Israel's response to Obama's move to go to Congress.
The gist of the article as I take it is that Prime Minister Netanyahu has asked all his inner circle to stand back, hold their tongues and consider Israel's options. Netanyahu and Obama have had a frigid relationship. Much of it due to Iran. This will be an overriding part of any Israel decision.
One consideration that will be taken into account the article noted was the concern of Itamar Rabinovich, who was Israel's ambassador to the United States. He said: "It would be a mistake to overplay the Israeli interest. It's bad for Israel that the average American gets it into his or her mind that boys are again sent to war for Israel. They have to be sent to war for America." It's the first open recognition by an Israeli official that I have seen that many Americans believe the Americans went into Iraq for Israel.
This type thinking weighs heavily on the Israeli leadership. It is aware it has much influence in the American Congress but it also knows that it has to be used selectively or it may wear out its welcome. So it has to weigh how much of its good will to expend in giving the OK to attack Syria.
Here are the considerations facing Netanyahu:
1. What will be his relationship with Obama if he doesn't come to his support?
2. What will Israel gain if the US does a limited attack on Syria?
As to number 2, the answer is very little. The Israeli leadership knows that a limited strike will accomplish nothing with respect to the outcome of the ongoing civil war in Syria other than altering the military balance somewhat but the war will continue as before. Israel, like the Boston Mafia when the Irish gang were warring with each other in the 1960s, can sit back and watch the battle knowing the more each side weakens each other the better off it is. Israel would then be following advise of Julius Caesar, "divide et impera."
Israel position on the limited strike proposed by Obama is probably it wouldn't object to it but it doesn't have a need for it. I would not be worth expending any influence or good will to get it.
This frees it up to bargain with Obama. It knows if it doesn't push his supporters to back Obama then its relationship with him will go back to the frigid stage but having experienced that for most of his presidency it probably is something that it is willing to accept knowing it still has solid backing in Congress.
It then has to figure how much Obama is willing to give for its support. I'd suggest that when Obama flinched and decided he wanted to bring the matter to Congress a chill went through the back of Netanyahu as he thought "if he's reluctant to do a limited attack on Syria he'll never do a forceful attack on Iran."
Netanyahu's intelligence agency is telling him that by 2016 Iran should have a nuclear weapon if all goes well. He wants an attack by the United States now and does not want to wait three more years. He understands that this may be his best opportunity to bring that about.
Obama needs the resolution he sent to Congress to be approved. Netanyahu will demand three things to get it for him:
1. That the resolution include language that authorizes him to attack Iran without going back to Congress. Some have argued that it already does. Netanyahu will want the language to be made very clear that it includes an authorization to attack Iran;
2. That any attack by Hezbollah or Iran on Israel as a result of the United States attack on Syria will call for an immediate and forceful response by the United States against Iran's nuclear facilities.
3. A definite trigger that will require an attack on Iran.
The blunder by Kerry when he suggested that our limited strike was in Israel's interest played right into Netanyahu's hand. Now Bibi since he can be indifferent to the planned action against Syria can help Obama's presidency which will be damaged irreparably if he loses the vote.
Netanyahu's price for giving him the win isn't that great, actually it is perhaps part of the existing policy of the United States. But it would be best if it were in writing. It would be worth going to the well one more time to get it.
One can always weasel out of tacit understandings; but a writing speaks for itself.