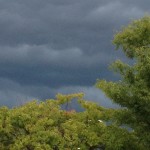 The Congressional calendar notes that Congress does not come back to Washington until September 9, 2013.  It also shows that on September 13 Yom Kippur begins at sundown. Therefore I have to figure Obama will be given the go ahead for the attack at the latest on the 13th. We won't go to war with Syria until the Ides of September.
The Syrians will have a couple of weeks to disburse its forces but as retired Marine four star general James Cartwright said on television Sunday: "most of the targets associated with the limited strike are fixed. Buildings, facilities, areas, so they're going to be there. . . . We're not going to strike the stockpiles of chemical weapons. . . . because the dispersal of the gases and chemicals would affect large areas around that activity. . . .  You want to go at the facilities. Go at the places where production is done. Go at the places where potentially they would move across channels of communication, bridges, things like that, that would allow them to move it. They're looking at the command and control in this area. . . . They're not going to move."
On the 15th or shortly thereafter Obama will launch this attack that will do what General Cartwright has spelled out. The Syrian government and its allies may or may not hunker down until the attack ends. What about blow back?
Hezbollah has already mobilized its forces. It has threatened to launch missiles from Syria against Israel when the US attacks claiming it does not want to embroil Lebanon in the crisis. I'm not sure that is feasible because Hezbollah forces in Syria are north of Lebanon while Israel sits to the south so the likelihood of an effective attack are near zero.
If Israel were attacked it is not going to stay its hand from attacking Hezbollah in Lebanon just because that is Hezbollah's desire. I'd assume Hezbollah may not want to fight Israel over this matter. It knows it would face an overwhelming retaliatory force looking for a little revenge after the last war.
This also seems to be the common belief. Hezbollah's saying it will is just more of its bluster. The same is being said of Iran. But one source suggests that the extent of the attack will determine the response.
There are two other parties that are of concern: Iran and Russia. Russia is making noises but at the same time pulling its naval personnel out of its Syrian base at Tartus. That's a sign it won't do much more than complain; Iran seems to be in no mood for a fight even though the attack may squash the beginning of a rapprochement between the US and Iran.
My estimate is we are planning a long and sustained attack with our cruise missiles like we did in Baghdad to take out its bridges, electricity plants and communications centers. It will last for one to two weeks and cause major damage to Syrian infrastructure. No one will come to Syria's aid.
But that doesn't mean there will be any blow back. Like with Afghanistan it may not come immediately or in a form we can anticipate but it seems to me that history teaches you can't launch a war on another country without suffering for doing it.
After we severely diminish Syria's war fighting capabilities, we leave it pretty much in the same situation with an ongoing civil war. Some have suggested that we are very happy with this.
Trying to understand whats afoot, here's what a person from the Middle East says about us: "Washington does not really care about those children killed last week in a chemical attack, just as it didn't care about the Iranians or Kurds killed in previous ones. Consequently, my feeling is that a vicious, and viciously short-sighted, realpolitik in Washington would probably like nothing better than to let its enemies fight indefinitely in Syria, burning the country to the ground as they do so."

General Dempsey of the Joint Chief of Staff pretty much agrees with that observer: "The use of U.S. military force can change the military balance. But it cannot resolve the underlying and historic ethnic, religious and tribal issues that are fueling this conflict."
Those with an interest in the Syrian battleground, the civil war among many different people with shifting alliances, know that in recent months the tide has shifted in favor of Assad. What we will do is to destroy some military assets of the Syrian government in order to diminish its ability to fight. In effect, leveling out the battlefield so that the brutal fighting in Syria like the Energizer Bunny keep chugging along.
There are already over two million people who have fled Syria and four million displaced in Syria. The UN has characterized the refugee crisis as one of the greatest tragedies of this century. Is our attack on Syria going to help any of those people? If not, why are we doing it? Haven't they suffered enough with the 100,000 already killed, their ancient cities destroyed, and the utilization of poison gas.
And how is it we show any resolve or courage by launching missiles from far off locations killing others while at the same time expressing a great fear of putting our own men and women at risk. Is this an act that will add to our prestige or glory? Or is it the action of a man boxed in a corner who hopes the war card will let him out?